External hard drive not showing up windows 11
Many times we Attached External Devices to our System but it is Not Show in our Device Manager & disk management. So we Can not use properly until our system read it. If Device is Not Showing attached hard drive on PC Then you have Come on Right Place.
Today here we will Discuss all the best Possible Solutions to Fix External hard Drive not Recognized error. This Happens Due to Many Reasons like Drivers , Cable Problem , Socket Problem etc so Let's Come to the Solve Your External hard Drive Not Showing and not Working Problem in this article.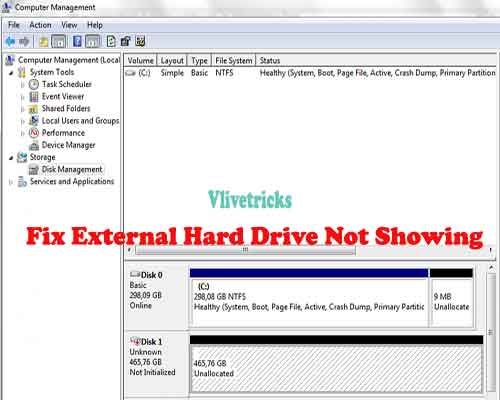 Number of reason when we attach external hard drive like pen drive, mobile drive but not shows on Windows pc. It doesn't mean our hard drive or socket is not working. The problem mostly persist because of software.
Sometimes it showing up but not able to open in file explorer. There is not one solution for this error. First know more about the error and find the solution in this article. Here we shared every solution so read it carefully.
How to fix external hard drive not showing on windows 11
Fixing external hard drive not showing up on windows 11 is different from previous version. The problem even shows when everything is fine but still something is missing.
Here we Discuss only common problems Solutions in which if your problem is coming from Software. If the Problem of Hardware then you need to Go your nearest Repair Center.
1. Fix External Hard Drive Using Trouble Shooter Program
Many times When we Attaches new Device to our System then it not Shows. It May be Due to Driver problem or Configuration Settings but Windows Offers Trouble Shooter Program which Itself Fixes Common Errors which Breaks Connection. Facing external attached hard drive error then firstly you should try this fix by below Steps
First of All Launch Troubleshooting Program on Windows (Click on Start >> Search and Enter Troubleshooting on windows 7 & 8. Using Latest Windows 11 version then Click on Windows Button and Type Troubleshooting)
Once Launch it will see Different Troubleshoot Option to Fix Problems but to Fix External Drive we need to Select configure a Device Option.
Troubleshoot Program will launch on New Pop up. Click on advanced and Select Automatically Repairs Option.
Click on Next , It will take some time to Detect Problems
Once it Find , It will Automatically Repaired and you will see fixed. Now close the Troubleshooter
Find Open Hard Drive it will be Show
If still not Fixed then Now Try to Follow Next Solutions
2. Driver Update
Sometimes due to Outdated or not Properly Installed Windows Doesn't recognized External Devices but we can Update drivers Manually to fix this Issue so lets begin with Below Steps
First of All Open Control Panel by Click on Start Button if you are Using windows 10 then Right Click on Start button and Select Control Panel
Select Device Manager From It orOpen Directly From Run Command by Press Windows + R Key and Type devmgmt.msc
Select External hard Drive From list if yellow or Red Sign then it is not Showing Because of Compatibility Issue
Once it Find , Right click and Select Update Driver Software Option
You will get New Pop up. Select Search Automatically if you Don't have Files (Make Sure your System is connected to Internet)
Follow Instructions and Update the Driver. Driver is Updated or Installed Successfully But Still hard Drive Not Recognized then Uninstall Driver and Reinstall it
I hope your Problem is Solved but Still Not Working then try to Follow Next fix
3. External Hard Drive not Showing up in Disk Management
Followed Above Both the Methods but Still Hard Drive Not Showing then you need to Check in Disk Management if not showing then its hardware Problem
Select My computer/PC Icon and Right Click >> Select Manage
New Window will Open, Select Disk Management Under Storage Section (Alternate Way to Open Disk Manage via Run Command diskmgmt.msc)
Check External hard drive Name it it
If it Shows then Your External Device is Working But not then Its hardware Problem, You need to Go visit Technicians Center
Conclusion
We hope Successfully Fixed External Hard Drive Not Showing issue using this best Methods Solutions. We Hope you get Exact Information Which you Need but Still Getting any Problem then Leave it in Comments. We Will Do our best to fix your Query. Now its time to Share and earn Some bless from which are suffering from this Error.