If you are Upset Due to Low Downloading Speed on android devices Then Today we Solve your problem, Yes ! Now you Can Get Never Seen Fastest Downloading Speed on android devices free.
Often we uses browser downloders to download any file because it automatically fetches the link and start downloading but you will not get full downloading speed on browser downloaders.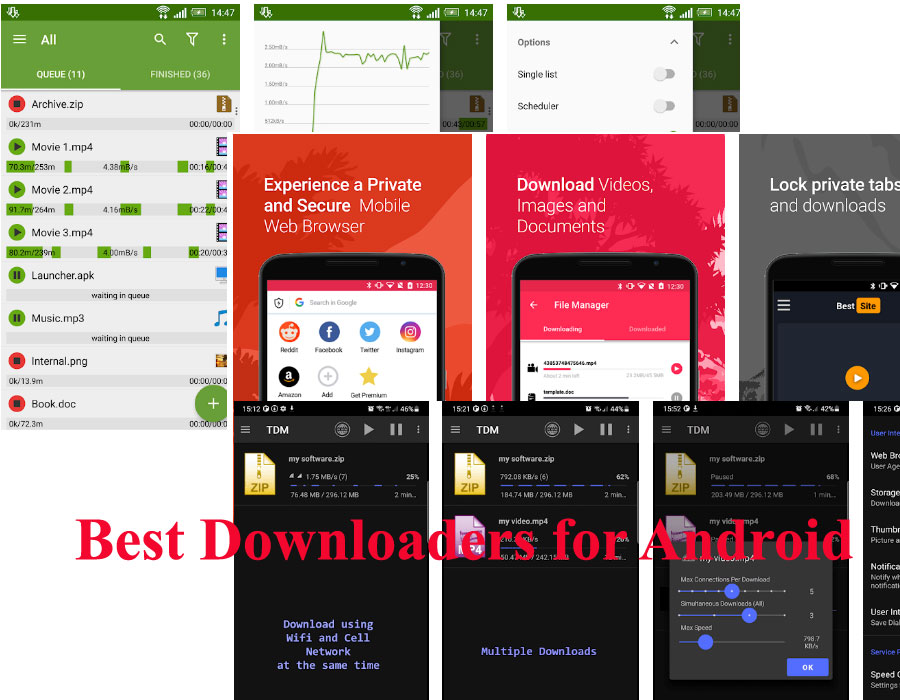 So by this Best idm for android 2022, You will get full download speed on android devices. This is Free Software , You Can Easily Install Via Apk or From Play store.
If you are Pc User then You Know About Difference Between Browser Downloading Speed and IDM Download Speed.
Similarly For Android , Lots of free idm for android is available but Here we Shared only Some Best which Gives Fastest Speed. You Can Download Movies , big Games or any Other File from this Internet Download Managers
If You are Living in area where Speed Issue then Check our Trick to Combine Wifi and Mobile Data , If you are unable to Download Videos then Check online Video Grabbers
---
What is IDM app ? (Internet Download Manager)
IDM is a Internet Download Manager Which Split your big File into Parts and Download Every Part from Different Connection and Server, Once it Download Completely It Merge all the Parts.
Some of the Website Doesn't Offers More than One Connection From One IP where Idm Unable to Give Fast Speed. You can Also Customize Number of Connections Under Settings, More Connections will give you More and More Speed.
One of the Major Feature , It also Supports resume Capability so you will lost your downloaded data in case of downloading failed. It will resume from where it failed.
How Idm Works ?
Suppose your File Size is 1gb and You Selected 16 Connections then IDM Automatically Split this File into 16 parts then Download Every part Separately so you will get More and more Speed as compare to Browser Downloaders.
In case of downloading failed for any reason then it will resume from where it failed. Another good thing is pause, You can pause the downloading files.
---
5 Best Idm For Android (2022 list)
Advanced Download Manager
Kode
Fast Download Manager
Download Accelerator Plus
Download Accelerator
Above is the list of some best idm app for android but if you will search on play store by that names then similar apps will also list and you will confuse to install original idm so don't leave the page now.
Read below all the features , idm download link and how to use it for maximum speed, how to resume download in idm on android ?
Let Me Explain their features One by One
1. Advanced Download Manager (ADM)
We Checked in Some Forums, ADM is the Peoples First Choice so we Listed this IDM For Android in First Rank. The App Developed by Advancedapp with Rated 4.5 and 50,000,000 Downloads on Play store.
Using ADM you Can Download 3 Files at the Same time Without Effect on internet Speed. It Can Split your File upto 9 Parts, Because Some times for Connections From Same ip Address Can reduce Speed.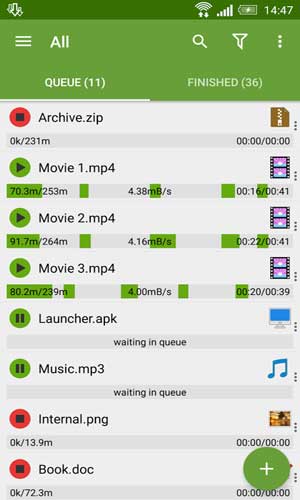 It Automatically integrate to your Browser So when You Download any file In Browser it redirects to ADM. Below is the Some Great Features of this IDM
It will show every part downloading size with remaining time.
You Can Download Files in background , Resume Support
Interception of links from android browsers and clipboard
Booster Option for 2g, 3g , 4g Networks
You Can Download more than 2gb File on your android
Direct Download MP3, MP4 from Popular archives
Easy to Resume, Start/Stop/Pause, Any file Type, Home Screen Widget, Notifications, Sorting , Profile Creation for Sites, information about downloading: speed, size, Remaining time
2. Kode : Downloader and Private browser
The Most Downloader and highly Rate Idm for Android Which Developed by Mirmay Limited and Listed Under "Tools" Category on Playstore. There Free Version Shows you ads, So to Remove Ads on DPB you have to upgrade on Pro Version.
By Kode Browser You Can easily Download Music , Videos , Movies and Other Files Directly to your android Device. You Can set Password also, So only you can access.
The kode app is browser + downloader but previously they have only IDM for android, Later they added browser features on it but still the downloader is working like previous and giving full downloading speed.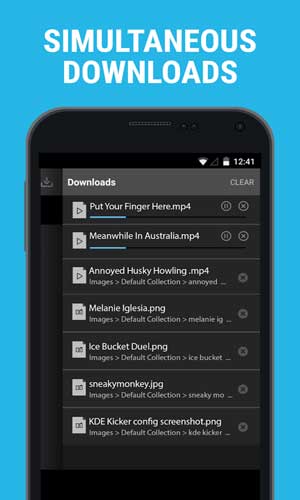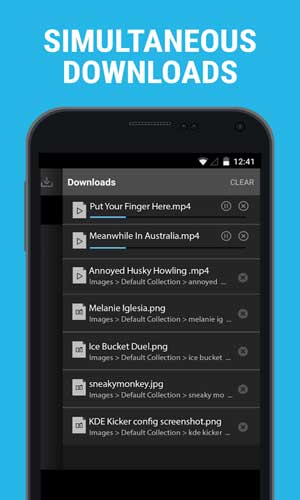 With Super Fast Downloading you can Also Browse Web privately with multi Tab Option. Only the Draw back of this App is you Can't Download youtube Videos Directly Due to legal Restrictions.
Save your Files in a Private , password Protected Folder
Play your Downloaded Files Offline via In-app Video player
Click Here to Download Kode Downloader and private browser
3. Fast Download Manager (FDM)
Another best idm for android Named Fast Download Manager Developed by Droidbeta. Rated 4.1 on Play store. It Will Increase your Downloading Speed of any file and Give you Full Super Fast Speed.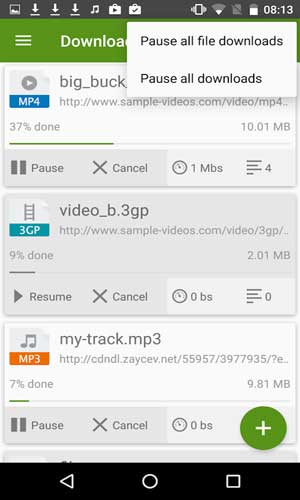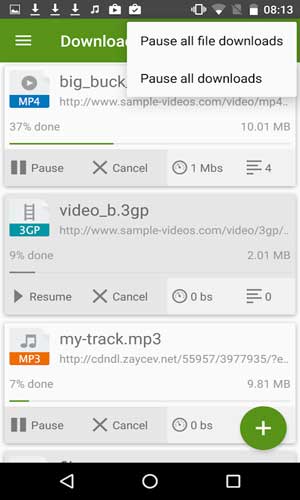 Use the In-Built Web Browser and Finding the Files which you Want to Download. You Can Directly Manage your Old and New Downloads from this Application. Check About Its Features
You Can accelerate and boost your Downloading upto 10 Threads.
Download Files in back ground, Resume , Pause Whenever you wants.
You Can see Detailed Information about your Downloading Files
Download unlimited Number of Files at the Same time
Bookmark your Favorite sites for Faster access
It is Compatible with any Browser
Supports Large Files
4. Download accelerator Plus (DAP)
Another Speed Booster and advanced Internet Download Manager is DAP Developed by FunAIs JSC. Direct Download of your Files into Memory Card, It Supports any type Of Files Like archives , music , Video , Documents.
It Supports and Automatic Integrate to Almost All Browsers Such Chrome , Default android Browser , Firefox etc.
It automatically Catches When you Click on Downloadable Link on any Browser. If your Server Has Resume Capability then You Can Pause and again Start when ever you want without Downloading from beginning.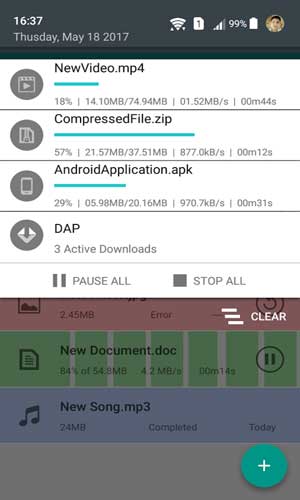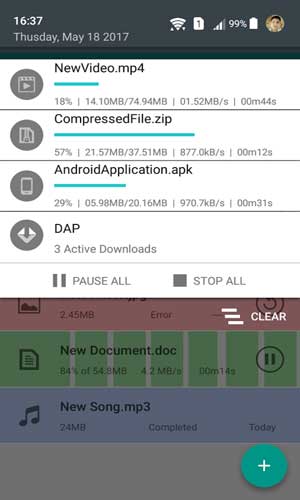 Boost MUSIC and VIDEO download speed by splitting files into multi-parts and using multi-thread download with buffering size optimization.
Refresh Your Links to New Download Link if you are getting Error in Download
Download File via Scanning QR code
Schedule Your Download
Private mode: passcode, hidden files and file encryption.
Support Proxy Settings
5. Turbo download manager and browser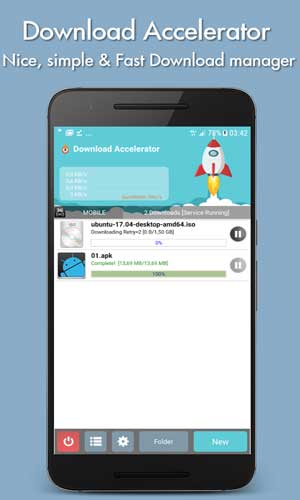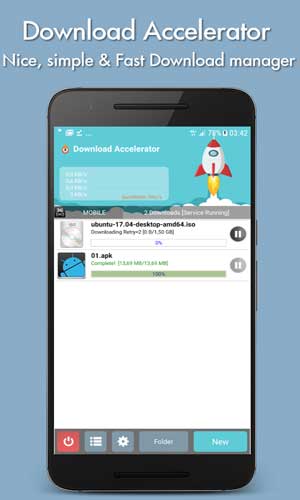 This Light Weight Turbo download manager app is another Best idm for android Developed by Point Blank. This is Completely Free tool to Accelerate your Downloading Speed upto 10X as Compare to Normal Download Manager.
It Also Supports Multithread core Downloader and resume of interrupted Downloads Without Loss of any Previous Saved Data. You Can See Live Status of Your Downloading File Like Speed , Size etc
One of the great feature of turbo download manager is combination of multiple networks like combine wifi and mobile network speed together. You don't need separate app like How to Combine Wifi & Mobile Data
Here is the link to download turbo manager app from playstore.
---
Final Words
So guys this is the Best Internet Download Manager (IDM for Android) Using This you will get Fastest Download Speed, Also it offers lots of Features.
This all is Completely Free While Some has PRO to Remove Ads only. From this Downloaders you can Download Lots of Files Simultaneously. If you liked this Post then Please Share it With Your Friends