Whatsapp group video call – How to create call link and make group video calls ?
Whatsapp developers regularly introducing new features. One of the feature is group video calling and voice calling. Its very useful for making conference call using whatsapp. Before this feature people can make only one video and voice calls at a time.
The group video calling will give great competition to zoom and other apps. Currently for making video conference calls we need to install third party apps like zoom but the feature now available on whatsapp itself.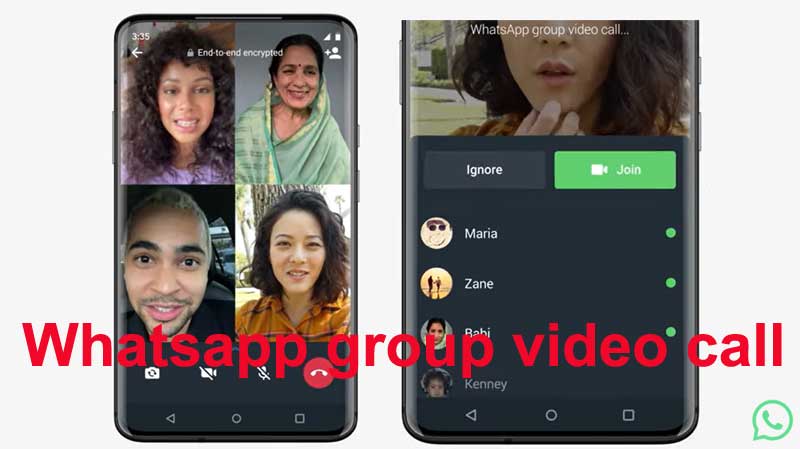 Users need to create a call link and share with friends for video calling. Upto 32 participants can join on video calling and 32 on voice calling. In upcoming version may be whatsapp will increase the participants.
The call link is securely with whatsapp security and 22 characters is different on every link so guessing the random combination is very difficult. Apart if no any calls made within 90 days then call link will automatically expired.
Stickers can send while on group video call. Blocking people to enter group calls is still possible to save the link from unauthorized access.
Group video call incoming and outgoing screen is different from single person calls. It shows the participants. History and miss calls can check via calls tab history option.
How to make group video call on whatsapp app ?
Make group video call on whatsapp using 3 methods : Group chat , Calls tab or individual chat. Select upto 32 participants on group chat & start video call. Let's come to all methods for make group video calls on android.
1. Group chat
1. Open the whatsapp app and select group chat. Tab on video call option from top menu and conform it.
2. Group have more than 32 participants then select manually people and start group video calling.
2. Calls tab
1. Visit to calls tab and click on new call button. Select new group video call.
2. Select contacts and add to video call.
3. Individual chat
1. Start video calling with any single contacts using video call option from chat window.
2. Add the participants ongoing video call to make it group video call.
How to

Join a group video call ?
Join ongoing or missed group video call using two methods : Incoming , Chat and missed. Incoming calls shows participants & missed from calls tab.
1. Join Incoming group video call
Like incoming calls, Group video call shows on screen or notification shows. Click on "Join" button to accept call. Before join wants to know participants then click on call menu. You can also join more participants on group video call even you didn't create a call link.
2. Group chat
Open the group chat window and click on video call message to join video call.
3. Join Missed video call
Supposed your friends joined on group video call but you missed it. Then visit calls tab and from history join it.
Whatsapp group video call features
Must have smartphone above android 4.1.
To turn off from video record. Click on Video off button from screen.
Upto 32 participants can join video and voice call at at time.
Video quality depends on speed of internet connection.
Those contacts can't join group video calls which blocked by you or blocked by that person.
Removing person between calls is not possible. Only they can disconnect.