In today's article, you will learn how to access a cell phone remotely with XNSPY, a monitoring app for Android- and iOS-based smartphones.
Many similar phone monitoring tools are available in the market. But XNSPY is known as a pioneer in the industry. Used by millions of users consisting of parents and companies from all over the world, the app claims to be the right monitoring solution for everyone.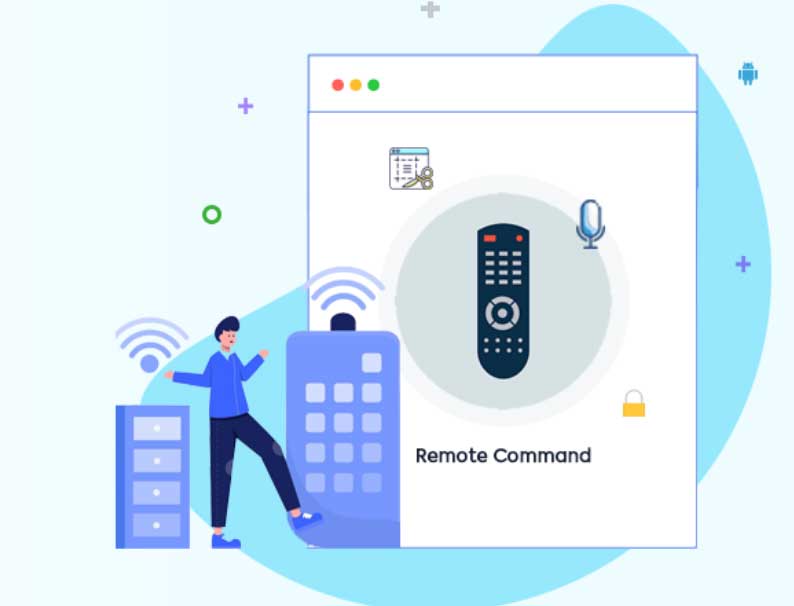 However, in this article, we will mainly focus on explaining the different ways to remotely control Android phone using the app in question.
Firstly, we will mention the XNSPY features that allow you not only to access cell phone remotely but control it as well.
---
Features of this best remotely control app :
Remote Ambient Sound Recorder
One of the various features available on the app's dashboard is that gives you the ability to remotely access the tracked phone's microphone at any time.
You can turn it on and off as you please. Enabling it to listen to all ambient sounds in the background and record them, if that's what you want.
Another function that allows you to remotely control the phone by locking it. You can enable the phone lock from anywhere as long as you have your XNSPY dashboard open on a browser.
Even though it's remote, it's not very subtle. So, if it's not your phone, then the monitored cell phone's user will know that someone else has locked them out right away.
Because they will require a code, which the monitoring app generates and makes available only to you, to unlock their cell phone.
Note: You can only lock the phone remotely. When it comes to unlocking it, you will have to enter the app-generated code in person. In case you're not there, then the only other choice is to let someone else, with physical access to the phone, know about it through different means. So, they can unlock it in your stead.
When you enable this function, what happens is that the app starts taking snaps of the phone's screen after a set interval (every 5 seconds). The only condition is that there should be an instant messaging (IM) app, such as Facebook, Instagram, or Snapchat, running on the phone.
So, you can say it's a screen recorder for IM apps only. However, useful to keep records of messages that can be deleted in such messaging apps. Giving anyone an extra way of making a backup for their IM chats and messages.
The screenshots are stored in the app's server and can be accessed through the XNSPY web-based dashboard.
There are times when one can drop their phone by accident or it can get stolen. In this scenario, the app's remote data wiping feature allows you to delete all data stored on your smartphone.
It's like doing a factory reset on your phone remotely. So, only do it in case you think your cellphone's lost forever. It should be your last resort. Because once you enable this function, all your phone data will be lost.
Now let's take a look at the step-by-step process which will explain how to remotely control your phone.
---
Steps to remotely control android or iphone :
First You'll Have to Subscribe . Yes, XNSPY is a subscription-based service. So, you will have to subscribe to one of its two packages: Basic or Premium.
The basic edition is currently available at USD 4.99 per month when you get its 12-month license. The premium version gives you complete access to all its spying features, can cost you USD 7.49 with its year-long license.
You can follow these steps to subscribe to its services:
Step 1: Visit XNSPY's official website.
Step 2: Click on the "Buy Now" option to open the relevant page for buying its services.
Step 3: Choose whichever package you prefer between Basic and Premium editions.
Step 4: Agree to the Terms of Use, Privacy Policy, Refund Policy, and other policies after reading them.
Step 5: Click on the "Checkout" button.
Once you have successfully subscribed, you will receive an email from the XNSPY team. Now, you are ready to download and install the app to access cell phone remotely.
Install the XNSPY App on Your Phone
You will need to do the following:
Step 1: If it's an Android-based phone, then you need to get the URL to download XNSPY APK from the email you received. Otherwise, if it's an iPhone, go to step 3.
Step 2: Download and install the APK file according to the installation guide, which will be included in the same email as well.
Step 3: Follow the installation/setup guide that you received in the email until the app is configured successfully.
Step 4: Once the app is installed/configured, go to the XNSPY dashboard and log in using your credentials, which are enclosed within the same email you first received from its team.
Step 5: Now, you can start the monitoring process.
How to Get Remote Access to Your Smartphone Using XNSPY?
Please know you must follow and accomplish everything previously mentioned before moving forward. Or else the following features might not work for you at all.
Among the app's web-based control panel or dashboard, you will find the options to remotely:
Monitor Calls
Track Text Messages
Check Social Media and IM App Chats
Track the Phone's GPS Location
View Emails
Access Media files
Sadly, the aforementioned functions don't exactly give you remote access to control your phone.
Those were some of the remote functions that can let you control your phone using the XNSPY phone monitoring app. However, if you are thinking of trying out the app for yourself, then you should first read some of its prerequisites.
Read This Before Getting the App
According to XNSPY's website, you can't use the app to remotely control Android phone that doesn't belong to you, your child, or an employee. Even then, you can only do this after informing your kids or staff about the phone surveillance tool and its activities.
So, it cannot be used to monitor other people's phones such as your spouse, boyfriend, or girlfriend, etc. Because that will be illegal and solely you will be responsible for all lawful repercussions.
Now, once we have got that out of the way.
Secondly, you will need to have physical access to the cell phone. It's usually required for all smartphones when you get the app's root/jailbreak version. Because without the phone in hand, you will not be able to root or jailbreak the phone and install the app.
If it's your phone you want to install the app on, then that won't be a problem to start with.
Lastly, check whether the app is compatible with your smartphone or not. Because if you want to remotely control your cellphone, you will need it to work with the app.
Otherwise, it will be a waste of money and effort to get an app that doesn't operate on your phone, or any other smartphone that you want to monitor. As XNSPY supports almost all Android and iOS devices in the market, we don't think it would be that much of an issue either.
Anyhow, that will be all for today's article, hope it helps!