Pulse Speed:
Online vibrate my phone tool
Online vibrate my phone tool :Vibrate from browser [Simulator]
Online vibrate my phone tool for vibration from browser. No app install require for online vibrate phone for android & iphone. This is simulator for test vibration on phone. Number of features available on vibrate my phone tool like continuous and 5 minutes.
There is no official option to play vibration on android or iphone. Vibration works only when call comes , touchpad and some limited options. Wants phone vibration for 5 minutes but how you will do. You need to install third party apps or use online simulator.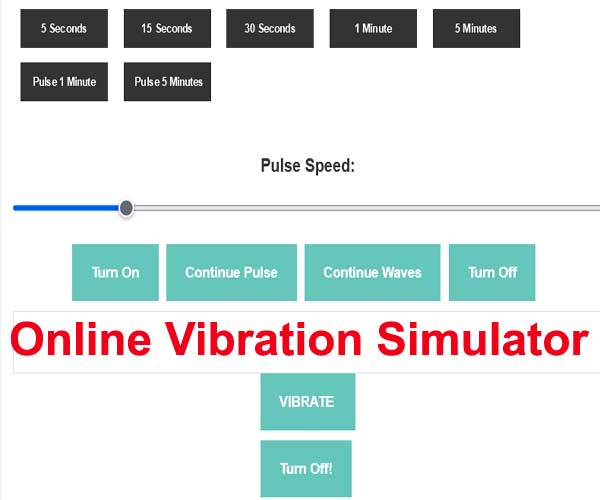 Online vibration simulator uses for different reason like test vibration on phone working or not. It doesn't require anything install or settings configuration. Anyone can visit this tool page and play vibration on phone.
How to use vibrate my phone tool ?
1. Select any button like 1 minute , 5 minutes. Vibration will start on phone for that time period.
2. Wants to vibrate phone in pulse or waves then click on that button continuous pulse or continuous waves. Configure pulse speed according to your need.
3. Or manual time enter seconds and vibrate it. Anytime vibration on phone can also stop through "Turn Off" button.
Test vibration on my phone
Vibration can test by various ways such as calling from other phone, locate my device or vibrate my phone tool (Vibration simulator). Online vibration simulator is best way to test vibration on my phone. Because other is time consuming tasks and irritated when we need repeated times vibration test on phone.
Online vibrate my phone tool not working on android
Online vibrate my phone tool works on every android phone. Try this not working solutions. First use google chrome browser. Disable "Battery saver" mode and Switch to "Ring mode" by pressing volume button. Because online vibration simulator not works in "Silent" or "Do-not-disturb" mode.
Not working on my iPhone
Turn on "Play haptics" in Ring & Silent mode. Goto Iphone setting options and Select "Sound/Haptics" and enable Play haptics mode.
Frequently asked questions answers
Here is the answers of most asked questions. May be you will get which you wants otherwise ask in below comments section.
Online vibration simulator works on which devices ?
The tool works on any android , iphone and which devices supports vibration mode.
Is it free or paid ?
Vibrate my phone tool is completely free for & access from browser. Use for unlimited vibration. No sign up or app installation require.