You Know Google Maps is How Much Popular ? It Is Using in Every Tracking app, Site, For Address etc. It is World's Best Map Service Where we Can Find Road Routes Free of Cost in our Smartphone. We can Check Real time Traffic of Roads and get Best Shortcuts. Today we will Aware About One of The Best Feature Location History , Where we Can Check Our Phone Previous Days Locations in Map.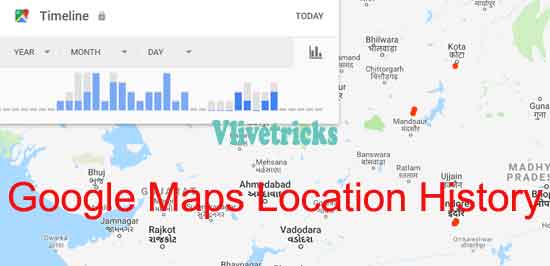 We can check Distance Between two Selected Points and Much More. Google maps is available on All Platforms. You can View Through Site or App. Recently Google Maps is Come on Every Apps Which uses Location Like Bookmyshow to Find City of User, Faasos , Jugnoo, Ola etc. According to Chad Kimball Google Maps can even be used to make money
Before Some Years Ago , Google Launched Earth Where we Can see Maps in 3d Format & Good Picture Quality. Day by Day, Google is Making Best. In Google Maps Lots of Options are Available to Make service more Good, If user wants then they Can enable or Disable this Options. From them one is Location History Which is Automatically Enable Until You Doesn't Disable it.
Today we Will Discuss All About its Location History Features Like How to Use it in Android Phone, Iphone or How to View Your Android Phone location History in Map Timeline etc. Let's Come –
What is Google Maps Location History ?
If you are thinking What is This ? Where you can View your Location History Clearly Like How much time You Spent at one Place ? Where you went on any particular Date , Which Route you Used etc. It will give you Complete Details of Your Past Location but It will Show only When Your Option is Enabled in your Google Account. So Follow below Steps to Enable if it is Disable in Your Google account.
How to Enable Google Maps Location History ?
You can enable it From Your pc, Android , Iphone but You have to Login in Your Google Account which you are using in Your smartphone.
Enable in Android Os
Open Setting >> Location.
Then You will see Google Maps Location History.
Click on it, Enable it.
You will see Smartphone List , Tick to Enable in that Mobile Phone. You can Also Delete Your History by Clicking on Delete Button. Similarly , if you wants to disable then You can Disable it.
How to Enable in Iphone ?
Open Google Maps >> Click on hamburger Icon From Top Left.
Now Simply Click on Settings.
Scroll Down Below, You will get History Option. Click on it.
Here you can Change Setting , According to You.
Turn on/off Using Pc/Laptop/Desktop When you Wants
You can Also Turn on or Off using Your pc by Login in your Google account which used in Smartphone. Once Disable From here then It will not track Any Location History Like Search, Youtube Etc.
How to View Android Phone Location History ?
Now the Main Part of the Topic is Come , I already Mentioned it is automatically Enabled so you if you wants to View your Old History then Firstly You have to Visit Maps Timeline Page Make sure you are using Android Logged in Google Account.
Now you will see Dashboard of Your Location History , You will also See Red Spots in Map. It is a points where You stay. If you will click on that Spots then you will get all details like Time, Date , Route Traveled by You, Distance etc.
Actually , It Shows your Mobile Travel Which you have & Linked Through Google Account. It is a very interesting and Useful Feature. Suppose if we forgot any of our Friends Home or Office where we Gone Before so we can Check Route. We can Remind Our Old Memories for Our Trips because it will be Saved till we Manual Delete it.
How to Delete Android Phone Location History in Google Maps ?
Google Also Offers to Delete Your history If you wants to Conceal With your friends, Here are the Steps to Delete it –
Goto Google Maps Activity Controls [ Click Here ]
Now Turn off the Location history Feature >> Popu up Will Open , On that click on Pause Button
Now Goto to the Timeline >> Settings >> Delete All the Location History
That's it, You Deleted your Android Phone Location History from Google Maps.
I hope now You Understood Everything and Successfully Viewed About Your Past Android Phone Location History So Friends Its time to Support our Site by Sharing.