Here are the Simple Steps to Block Congratulations You have Won Malware From Android and Iphone Both Without Installing Antivirus or Third party App. This Methods will Completely Remove Congratulations You are Winner type of Viruses From your Device and Also How you can Protect Your Device From this Type of Scam Virus in this Article.
Followed every Possible Solutions to Remove Congratulations You've Won Virus on your android Phone Like Clearing Browser Data, Restart Device but Still Facing Issues then You are on right Place because Still you are Forgetting something Where this Viruses is Still Sitting Secretly but Now Not for a Long time. In Computer you can Take help of Remove Virus From Windows without Antivirus , It will Solid Work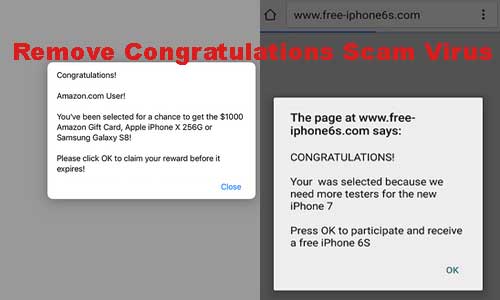 The Process of Stopping Congratulations You are Winner type Scam Viruses is Not So Lengthy, It will take 1 or 2 Minutes Only. Even if you will Follow our Tips then in Future you will Not Hunt from this type of Virus. Even One Time I Tricked But Later I Found Solutions to Remove Shortcut Virus and This All be Done Using Windows Pre-Installed CMD
How Scam Virus Comes In your Device ?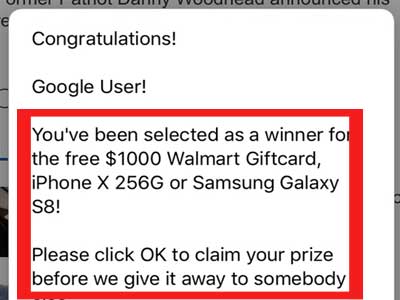 Like the Name of Virus "Congratulations You've Won" It will Come, This Give Peoples to Greed this Type of Popups and Links when you Click on It they Install their Virus In your Phone. They Share the Popups Like Unbelievable Deals Such you Won Mobile Phone, Cash, Dollars and once you Click on their Scammed Button and Give Few Answers or Follow their Simple Steps to Claim Prize then you are hunted by them and Now your Trouble Life Has Started
Now you are thinking What they Benefited From This Congratulation You've won Threats, Too Much. Using the Help of Virus Application they install Different Different Applications in your Phone without Your Permission, They Can Steal Your Personal Data and Blackmail you, Bogus Ads When you Browser the Internet or Other applications, Steal your Bank Details and then Money
How to
get rid of congratulations you won Virus on android & Iphone ?
Sometimes Even we Don't Know We are Injecting Virus on our Device because on Internet lots of Scam websites made Completely Like unique and Trusted so If you have been Tricked By this Type of Virus then Here we Sharing Methods To Deal with it.
Remove Scam Virus App From Android
Using Android Smartphone and Getting Popups , Ads, Auto Working your Phone then I Bet you Tricked with Congratulations You Have Winner Type Of Virus but Don't worry Very Soon you Will Get Rid From This Scam Virus on Android
First of All , Open Android Menu and See All the Apps. Note All Pre-installed Apps Name on one Piece Of Paper and check which you didn't installed
Now Open Settings >> Apps >> Download tab >> Here If you Easily Know then Suspected App then Uninstall It
Otherwise Match all the Applications from Noted Down, If any Application is Now Showing in Menu then May be It is Virus App because Mostly Virus Application is Hidden from Menu so Its Difficult to Find and Uninstall those who Don't Know About it
Once you Founded Suspected Congratulations you've Won Virus App and Uninstalled it, Now you have to Clear your Browsing Data otherwise When you Open Browser It will again Automatically Installed in your Android
Navigate to Settings >> Apps >> Browser like Google Chrome >> Click on It and Clear the Data [ Note : Your Browsing History, Bookmarks, Login Cookies all will be Deleted ]
Now Restart your Android Phone, I Hope The virus is Successfully Removed your Phone
Uninstall Congrats You Won Virus From Iphone
Similar Steps Also Works on Iphone to Remove Virus Named Congratulations You've Won, Actually IOS is Very Secure operating System so there is very less chance to Install the Unauthorized Application . Here are The Steps for Iphone
Find the Suspected app like above Android and Uninstall it [Optional Step]
Then Goto Settings >> Safari >> Clear the History and website Data
Restart the Browser and Enjoy the New Life
Antivirus  & Cleaner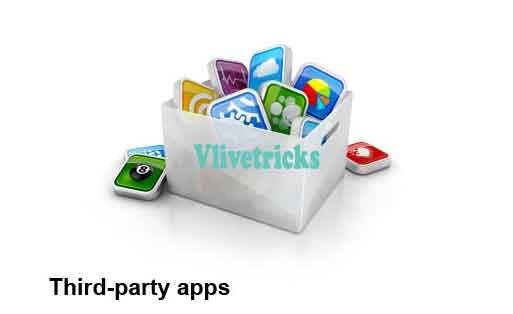 If the Virus Is Old and Updated in Antivirus Database then It will Automatically Remove Scam Virus From Phone so Make sure your Antivirus is Up to Date and Now Deep Scan your Phone. Sometimes by Cleaning junk Files also removes Congratulations ! won Virus File so you can Install Light Weight Google Files Go, Its Better from Other Cleaner
Factory Reset
Sometimes to get Rid from this Type of Scam Virus is Very Big Task when we are unable to Find it by Trying every possible Solution then only one way is Available to Removes Congratulation You have Won Virus From Smartphone is Factory Reset and Its Guaranteed Works Because It will Removes Everything from Phone and Makes it Like New One. This Process also Increase your Phone Performance , Speed but you will loss your All Apps Data.
Here are steps to Factory Reset on Android :
Step : 1 – Open Settings >> Select Privacy Option from it
Step : 2 – Select Factory Reset >> Confirm It >> It will Take Few Minutes. It will Automatic Restart and you will See Virus is Now Removed From your Android Phone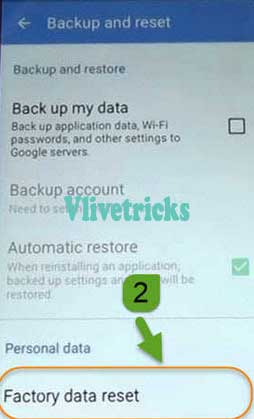 Steps for Factory Reset on Iphone :
Step : 1 – Open Settings Options >> Select General From it
Step : 2 – Click on Erase All Contents , That's It
So above is the Methods to Removes Congratulation You won Virus but There is No Guarantee when it will again Come back and Attack Your Device Until you Protect It so Below is the Some Main Points which Save your Phone From Scam Virus also It Prevents hack your Phone
How to Block From Scam Virus Apps
This Tips will Avoid Viruses , malware to be Enter in your Device so Always Keep this Points in your Mind when you are Browsing Internet on your Phone
Open the Settings >> Security >> Device administration Uncheck Unknown Sources Installation if its Checked
Don't Click on Popups , Ads, Offers , Deals Unless its from Trusted Sources
Always Check Which Permissions you are granting at the time of App Installation Like File browser Will take Storage permission Neither of calls
Don't install Application From Unknown Sources, Use Always Play Store if Android or Itune if Iphone because they already Scanned it. If any Virus Found they Removed From their Platforms
Keep Update your application
Install Premium Antivirus
Conclusion
So finally I hope you learnt How to Remove Congratulations You've Won Malware From Android and Iphone. Here we Shared all Possible Methods to Throw out the Virus From Phone. You can Also apply this Methods on Other Same Type of Scam Virus so no give Permission to got and Keep Visiting our website and Don't Forget to Click on Below Share Icons