Do you love to play mini militia but tired of losing the game daily? So, stop worrying any more because you are now in the right place where you will get the best mini militia tricks to win. Well, a mini militia is a trending game these days. A large number of people all over the world love to play this game. And no doubt, the game is really AMAZING. Well, this game is perfect for those players who love war games with funny graphics.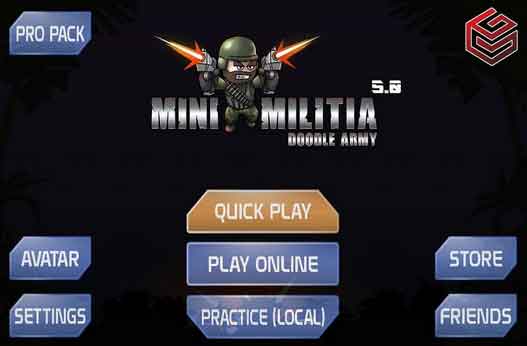 Well, yes, you are also a big fan of this game, and this is the reason why you are here today. Since you want to know about the tips and tricks which can help you to win a game, this guide will surely be helpful to you. But guys, before I start up with the winning guide for the mini militia, I would first want to inform you about some other details like mini militia weapons, mini militia maps, and much more. It will be helpful for you to know more about this game which will be helpful for you while you will play this game.
Mini militia game weapons
AK-47
M4
SMAW
M93BA
Shotgun
MP5
The machete
Bomb
Gas Grenade
Sticky Grenade
Revolver
Uzi
Desert Eagle
So, guys, these are some of the mini militia weapons. Though you will find some more weapons in the game, these are the best ones.
Mini Militia Maps
Well, it is obvious, people start feeling bored with the same locations and destinations. So, keeping in mind likes and dislikes of the players, mini militia developer have added a variety of maps in this game.
No escape
Bottleneck
High tower
Icebox
Crossfire
Catacombs
So long
Subdivision
Pyramid
Suspension
Snow Blind
Overseer
These are some of the maps of mini militia. So, I would suggest you guys, stop playing in the same map daily, explore the game and enjoy the new things daily. It will not only inform you about the game, but it will also develop your interest in it.
How can you get items from the store of the mini militia?
There is an in-built store in the game where you can buy things required in the game to improve your performance. You can either buy them from the Amazon store, or you can earn the battle points and get the items.
In the second method, you have to kill the players and earn battle points while playing the online mode. Use those points for exchanging the store items.
Open the game, go to the settings, and open store. You will find your earned points on the left corner of the store. You can buy the items which can help you to improve your capability. Well, it will also result in improving your rank which will make you more popular. So, guys, below I have shared some store items which you can buy to improve your performance.
Melee+10
Grenade+1
Gas Grenade
PISTOL SCOPE
Health regen
Golden eagle
Mask Pack 1
Faster Reload 2
Increase Accuracy
Boost Increase
Rifle Clip Extender
Handgun Clip Extender
Laser Sight
These are the store items which will boost up your game. Using these items will definitely help you much.
So, guys, these are some of the features of the game which will be helpful for you to boost your interest as well as your skills. That is why before sharing the Top 3 winning guide for mini militia game lovers, I have shared these some of the important features with you guys. Well, now I will share the tricks and tips which will be useful for winning the game.
Mini Militia Tips and Tricks
The first thing I would suggest you have proper equipment and gun with you. Unless you will have proper tools with you, you will not be able to win the war. Well, I would personally suggest you go for rocket launcher, snipper, or shotgun. These are the best guns for the game which I have personally experienced. I would also suggest you have at least two guns with you at a time and the combination of snipper and shotgun is very effective.
Make your opponents die instantly wherever you see them by planting either a time bomb or a gas bomb. Don't think before hitting your opponents.
Try to avoid commit suicide as much as possible, but if you are feeling low, I would suggest you commit suicide. It is a better option rather than giving to your opponent's opportunity to earn points.
Final Verdicts
So, guys, it is all about this fabulous game and its winning tricks. I hope you guys find this guide helpful. Well, you can comment for more details. Thank You.