Wants to prank with your friends ? Check best magic call voice changer apps for android which changes voice during calls into magic effects. Your voice will hear like real. You can change voice into female or other 400+ effects for free.
Some years Ago If you have Used Chinese Mobile Phones then You Know About How You Can Easily Change Your Voice During Call with Various Effects like girls voice, old man voice etc. This option pre-installed on that phones but now very little phone comes with voice call changer app.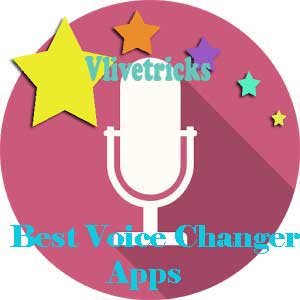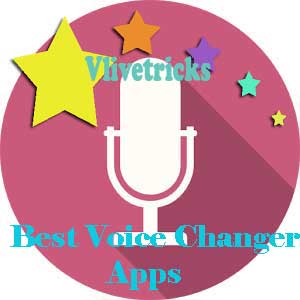 Are you android user but There is No such Official Option then Don't Worry Here we Shares Best magic Voice Changers apps 2022 to Change Voice during call on android into Girls (female) and Other Lots of Effects.
You Can Download This Apps via Play Store or Direct install it via Apk. This all are free and no need of any subscription or purchase require but you have to face some ads on free version but still voice call changing option will work smoothly.
Check some more Android Tips and Tricks Like turn off wifi bluetooth via voice, control pc mouse keyboard from android and many more.
---
Best magic voice call changer apps 2022 for android
This All Voice Changer Apps are Free Available on Play Store but every App has their Own Unique Feature Which We Discuss in this Article.
From this apps, You can Change Voice during call on Android into various effects like :
Female From Small to Aged from this voice Changers ,
Other Effects Like Robot , Lazy , Kid etc.
Effects : Young Lady • Small Baby • 3 years Baby • 10 Years girl • 16 Years girl • 21 Years girl • 35 Years Lady • Old Women • High Pitch Toned girl • Low Pitch Toned Girl
This all is Android Apps which You have to Install In your Android Phone from mentioned play store link Then Follow below steps to Convert Your voice into magic Effects.
How to Change Voice during call into Girls Voice on android ?
If you are Finding any android app to Convert voice in realtime calls into Girls or Female Voice then this Magiccall App Will help you. It will Change in to various Girls voices like dream girl for sweet voice. You Can Easily Check your Recorded Voices later and Manage it Direct from App.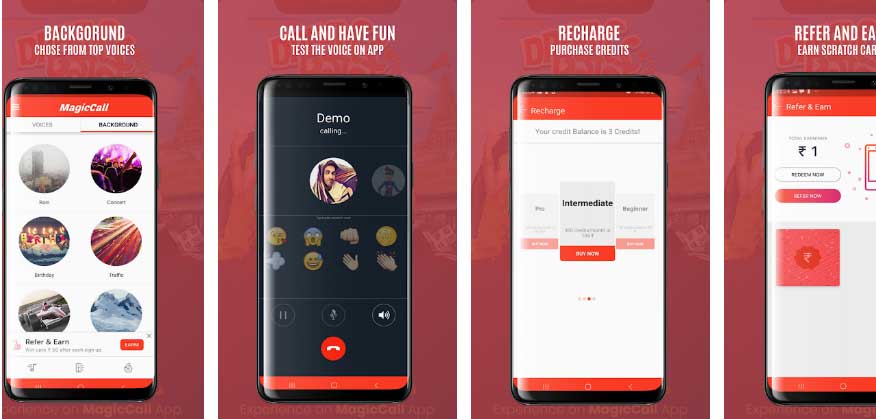 You can also play effects with voice change on calls like kiss, claps, Raining noise, Happy Birthday Background, Traffic Noise and Music Concert background etc. which is extra feature.
This voices can be change on calling from magiccall app :
Change any voice into female
Change any voice into Male
Kids voice
Cartoon voice
Normal voice with background effects only
Before use on real time live calling you can test voice on app. This is best voice changer app for fun and prank. Here is the steps to change voice during call on android using magiccall app.
First of all download Magiccall App
Install and open it, Now select voices or background
Test the voice then click on call button >> Select contact or dial number.
That's it once call connects, Receiver will hear your changed voice.
How to prank calls by Change Voice in funny Effects
At Play Store one App is available Name Voice Changer Prank Calls Developed by ACETELECOM Which Downloaded 1 Million+ So this is Most Popular and Using App to Change Voice.
Using this Free App , You Can Make Prank with Your Friends. The App change voice on android during call in to Various Effects. Even on calls time you can switch voices by pressing keys.
Effects – Normal , Helium , Hexafluoride , Robot , Big robot , Cave , Space mutant and Many More
Rated – 4.3 on Play Store
How its Works ?
Download it
Install , Open
Dial number >> Apply Effects >> Listen Preview
Enjoy prank
Change voice of recorded calls on android
If you Didn't Get your Favorite Effect in Above App then Another Famous Voice Changer with effects App will Solve Your problem. You Can Easily Change your Voice and have a Some Fun with your Modified.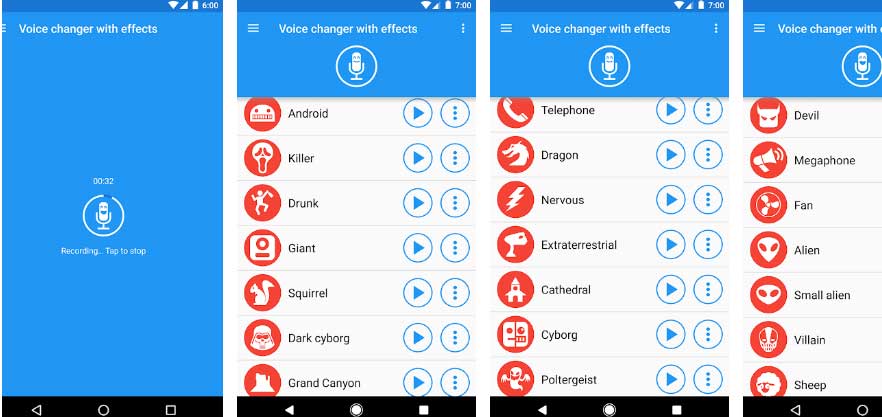 The Interface and Graphics of this App is Very Good. It Supports helium, chorus, monster, chipmunk, backwards and many other funny effects
Rated – 4.2 on Play Store
It doesn't Work Like above App, It will not work on live call. You can change audio file voice from this app like already recorded calls.
Features
Preview Before Share and Save
Manage your Old recordings Like Play , Delete and Share
You can Share it Directly on Whatsapp , Facebook Etc
Save it to Your Storage
Create Image with Sound
Set Phone Ringtone or Notification Ringtone Directly
Support Piano Effects
Import Audio File
Manage Your Saved Recordings
---
Final Words
So guys this is Best magic voice changer apps to Change Voice during calls and recorded calls into Various Funny Effects  & look like real voice of other person Free of Cost.
This All App Offers Downloading Option Which You Can later Manage Also Directly from App if you are Unable to Find Download Path. You can also share the prank voice with your friends and make more fun.
I hope you got what you are searching then its your turn to share the post on social media, If you need any other type of app then share features in below comments sections. We will find and update on this page.