Whatsapp is one of the Most Using Messenger in the world , Its Unique Functionality & options Makes More Popular to Use. One of the Option is Profile Picture but if you're Image is Not in Square Format then you have to Crop this Image before set.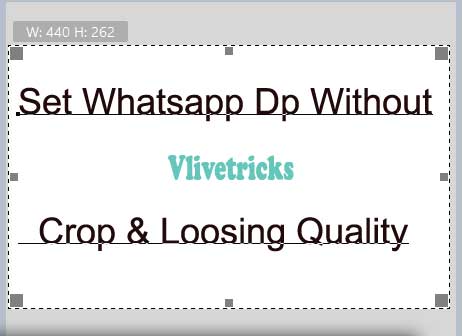 Use our Easiest trick to Set Whatsapp Profile Dp Picture in Full Size without any Cropping & Loosing Image Quality using Square Droid App. This is one of the Draw Back of the Whatsapp Messenger Because no one wants to Crop Image/Photos because After Crop Photo not Sees in Fully size.
You can also use Picsart App to Make Square Fit Photo but you have to Blur Extra Part. Suppose , You captured Photo in Vertical Format then You have to Cut Almost Half part of the Photo to set as whatsapp Dp but Using Square Droid app it will automatically adjust in Best View without Blur Extra Part
How to set Whatsapp Profile dp Picture without Crop
Now the app is Removed from Play store , So you have to Download Manual Apk from Google Search.
First of all , Transfer your photo to Phone Memory or Sd Card.
Now Install Square Droid app or Direct Download Apk.
It will take few Seconds to Install , Then open it.
Now Pick a Photo from your Saved path or Capture new one using Camera.
It will automatically Decrease your Picture Size without loosing Picture Quality, Save it.
Now Open Whatsapp >> Settings >> Change Photo >> Select Modified Image.
Done ! Now your Photo will be See in Full Size.
Features of the App
Your Image Quality will be Original After Crop
The App is Available for Both Android and Iphone
No any Purchase, Its Freeware Software
Easy to Crop any Picture from your Storage
Method – 2 How to Set Whatsapp Dp using No Crop
If you wants to Use Lite Version then Try No Crop for Whatsapp Which offer to Make your Full Size images to Square Fit so you can Easy to that set Converted Images to Your Profile Picture with full crop. But in this App you have to Blur your Extra Part of the Picture. You can Also Use Stunning Effects, Color Filters for Background.
Visit No Crop For Whatsapp [ Click Here ]
Install and Open it
Open your photo From Gallery and Click new One
Once you Select your Photo Will be Automatically Cropped in Full size
Now Save it or Modify it
Method – 3 Using WhatsCrop
Another Very Good App by Which you can use Set whatsapp Dp Full size Picture without Crop but you have to modify it before set on Whatsapp. Using whatscrop you can make your photo Square Fit, it will Automatic Resize your Photo or You can Own Changes in Them like Rotation, Change of background using Colors, Blur or your own Wallpaper or Another Photo
Check more Tricks of this Messenger in our Website :- Create Group Invite Link , Hack Chat/Account , Run two accounts in One Mobile , Hide Mobile Number From groups , Use without Mobile Number , How to unblock if anybody blocks You.
This option is Offered by Many Free apps & Sites but it Looses Picture quality , This is the One of the Best tricks & Methods to Change Whatsapp Dp Without Crop.