Many things Which we Uses Daily but Every People have Different Choice but on Mobile Operating System. Companies default installed lots of app which have no use called bloatware. Here get Bloatware Removal Tools for android and it doesn't require root access.
Some of the Common Apps which Mostly Uses or Some of the Apps Because of Promotion they Comes With Pre -Installed Which Works in Back Ground. It Eat Lots Ram Memory and Drains Battery So Today we Shares Some Best ways to Remove Bloatware from Android to Speed Up Mobile Performance and storage.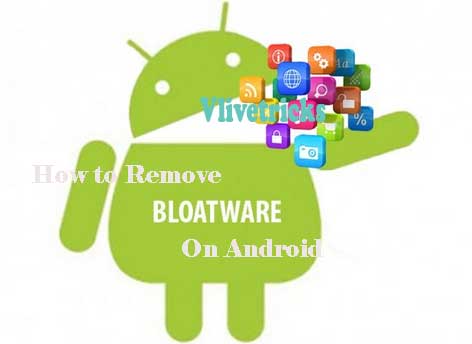 What is Bloatware apps ?
Bloatware is the apps which Mostly Time Useless and Taking High Memory Usage and Other System Resources. It Continuously Run In Back ground and Drain mobile phone Battery Power. Also in Some System there is Not Option to Remove Bloatware so we Have to Use third party tools for remove it.
Why we Should Remove Bloatware on Android ?
It Slows down Our Mobile Performance
Drains Battery Power
Increases Memory Storage
Takes High Resources
Bloatware Removal Tools for android 2022
Bloatware Removal Tools for remove default installed apps on android. Remove system apps like normal apps by Bloatware Removal Tools.
On rooted Phone , Its Very Easy to Completely Remove it But Without Root it's Little Bit Difficult. But Don't worry we made it more simple like normal apps uninstallation.
1. Adb Binary and Command Prompt for remove bloatware
First of All , Install USB Drivers of Device
From Above Downloads you will get Zip Archive, Extract Anywhere in your pc
I Hope You Enabled USB Debugging If not then Navigate to Settings >> About >> Click 7 times on Build Number to Enable developers Option where you Will get Usb debugging Enable Option
Now Connect Phone to PC via USB cable and Select "File/ Media transfer Mode" (FTP/MTP)
Now Open the Folder where Extracted ADB Binary zip Archive, Open Command Prompt on this Folder by Press shift + Right Click >> Select "Open Command Prompt Here".
Check Device is successfully connected or not by entering command "

adb devices

"
Enter

adb shell

and Execute

pm list packages

|

grep

'<OEM/Carrier/App Name>'

without quotes to find Packages of App Name
Execute this Command to uninstall bloatware apps

pm uninstall

-

k

--

user

<

name of

package

>

"
That's it , Now Execute Every time this last Command to Remove Bloatware without Root on Android Phone.
2. Remove Bloatware by Android Settings
First of All Check and Disable which Apps are taking too Much resources on android Phone (Settings >> Battery >> disable battery hogging apps) & (Settings >> Memory >> Disable memory intensive apps)
Navigate to Settings >> Apps
Here you will get Installed Apps
Now for bloatware remove , Click on Unwanted Apps and Hit on Clear Cache , Force Stop, Uninstall Updates and Disable it
Bloatware removal on Samsung android phones
Open App Drawer and Long Press on the App Icon
You will get Uninstall or Disable Option
Click on it
Uninstalled or Disables apps will not Take Resources or Run in Background. I recommend to disable instead of uninstall because later easy to enable it.
4. Purify App for bloatware removal
Purify is the Best app to Remove Bloatware on android Without any root access, It Will automatically Configure android Phone Settings by which Mobile Will run Smoothly with Long Battery Back up. It Also Terminate Auto Start apps in Smart way.
Download Purify App. The app is not available on play store. Download apk from google
Install , Open and Enable it
Bloatware removal tools for Rooted Device
Device is Rooted then all the above solutions will work smoothly. But if Follows This then You can Remove any Pre- installed Apps from Android. Before Follow this Steps, Back up your device.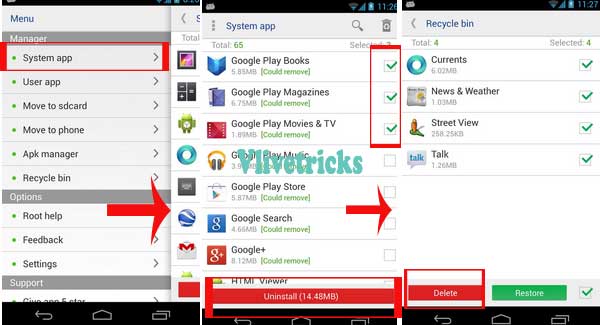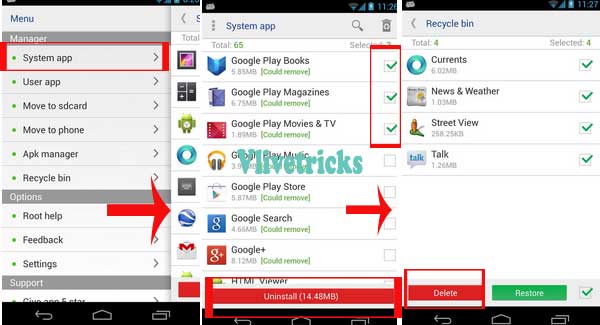 Install System App remover From Playstore
Now Open it , First time it will Ask for Root Permission. Grant it
Click on Menu >> System App
Select Unwanted Apps and Hit on Uninstall
Wants to Completely Delete it then , Open Recycle Bin >> Select Apps and Delete it
Facing Problem in rooted Method then We Have One Article Uninstall System apps on Android where you Will get Lots of Similar Apps Like System Removal App.
If later, Wants to Recover any of the Removed Bloatware from android phone then Do Factory Reset and Recover Successfully.
Conclusion
So guys , This is the Best and free bloatware removal tools for android and works on any brand smartphone. In this way Optimize Phone Speed and Performance.
If your Friends or Family Members is Facing this Problem then Share it From Below Options and Don't forget to Share which Method Was Best Suitable for you.