We are usually accustomed to storing important files on the Android phone since it is convenient, but it is also probable to get the Android files lost if the accident occurs, for example, getting the phone dropped or stolen, etc. We'd better try to avoid the bad situations. Thus a reliable Android backup software is required to keep our Android files safe.
Here, this post lists the top 5 best Android backup software for PC for your reference, you can learn their features and more to choose your preferred one, helping to prevent your Android data from loss. Let's see what impress you. Check Here How to Recover Deleted Files on Android Free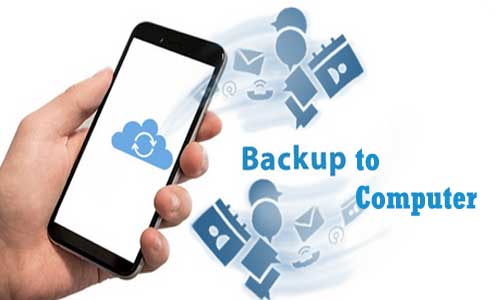 List of Best Android Backup Software for Pc
1. Coolmuster Android Assistant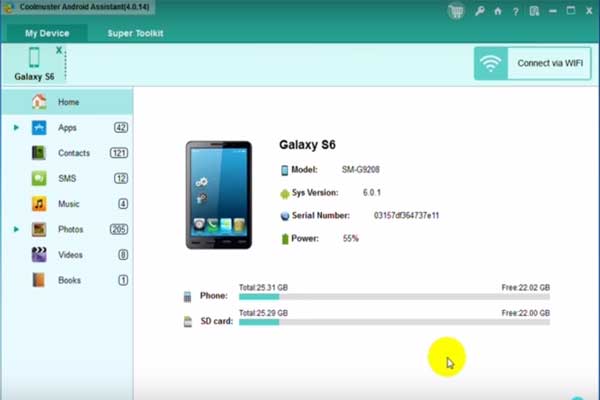 Coolmuster Android Assistant is a comprehensive Android backup application for PC. With it, you can not only back up your Android phone to the computer in 1 click, but also restore the backup files from the PC to your Android phone without hassle whenever you need. Furthermore, it is equipped with multiple functions so that you can manage your Android data on the computer easily.
Key features:
Back up everything on Android phone by category with 1 click;
Restore Android phone from backup by category with 1 click;
Preview your Android files clearly with details on the computer before backup;
Selectively export and import files between Android phone and the PC without quality loss;
Support to back up contacts, text messages, call logs, applications, music, videos, photos, documents, and more;
Manage contacts, SMS, call logs, apps and media files on Android with ease;
Take screenshots of your Android device on the computer at any time;
Both of USB connection and Wi-Fi connection are available;
High compatible with almost all Android phone, like Samsung Galaxy S20/S10/S9/S8/S7, HTC U12 Life/U12+/U11 Life/U11/U19e/U Ultra/U Play, Sony Xperia 1/Xperia L2/Xperia L3/Xperia L4/Xperia 5/Xperia 10, ZTE Axon 10 Pro/Axon 9 Pro/Blade 10/Blade 20, Motorola, Huawei, Oppo, Xiaomi, Vivo, Google, etc.
Got a better understanding of this Android backup software for PC? Why not download the Coolmuster Android Assistant now to have a try? I bet it's worthy a lot.
2. MOBILedit – Easy back up of Android From Pc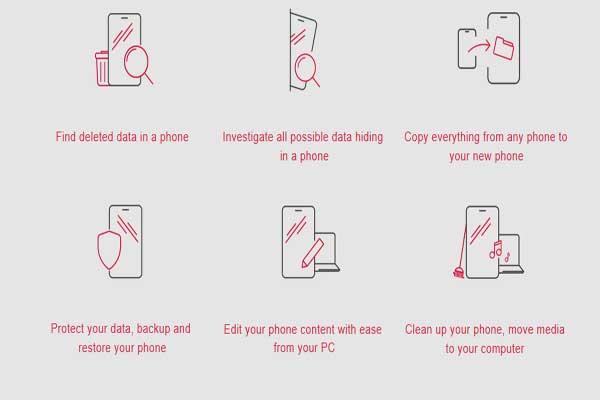 Marked as a central toolbox for mobile phone, MOBILedit can help you control your Android content on the computer with ease. Its modern design allows you access your Android files on the PC, so you can back up your Android device for PC with it quickly.
Key features:
From Mobiledit Software, back up your Android contacts, messages, call logs, applications, and multimedia files from the phone to the PC;
Remove duplicates of the Android contacts with its contacts optimizer;
You can choose to back up your data to the cloud storage online with this app;
Retrieve the lost memory on your Android, containing past pictures, lost contacts, and more;
Support wired and wireless backup via the USB cable and Wi-Fi.
3. My Backup
My Backup is an easy android backup Software for PC. Many types of data on the Android phone are supported. Therefore, you can back up and restore the apps, contacts, music, calendars, system settings, and more on the same Android device. If you need to transfer data to another device, it will remind you to get the pro version.
Key features:
You can set the schedule to back up data automatically;
Backup to the PC or SD card you can choose;
Support cloud backup as well;
Migrate your data to another device over the Internet;
Uninstall apps and delete the app data.
4. Moborobo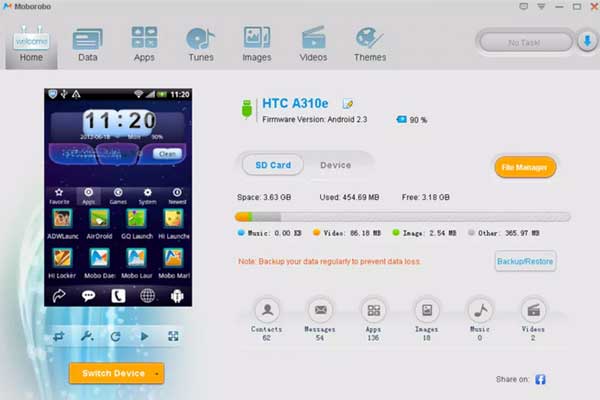 If you want a simple app to make Android backup for PC, Moborobo will meet your requirements. It can synchronize your contacts, call history, ringtones, wallpapers, and more with a few clicks from the Android handset to the PC for backup.
Key features:
Besides backup, you can find, download, and install the applications on the PC conveniently;
The brief interfaces make the features easier to operate;
Add and remove the media files on the PC without trouble.
5. SyncDroid – Android backup software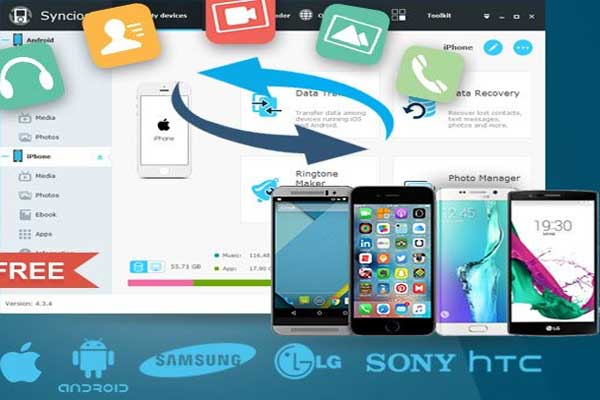 SyncDroid is another Android backup software for PC, so you can sync your SMS, contacts, call logs, bookmarks, music, videos, camera photos, etc. from your Android electronics to the PC effortlessly. This app also supports Wi-Fi and USB cable connection.
Key features:
In addition to backup, it can restore your data to the Android device with 3 steps;
After installing the app on your Android phone, you can transfer files to the computer with Wi-Fi connection;
Conclusion
So, that's all about the top 5 best Android backup software for PC above, which can help you back up data from the Android phone to prevent from data loss. Which one is your favorite? Personally, I think the integrated Android backup program – Coolmuster Android Assistant is the best, which can not only back up Android data to the PC with 1 click, but also manage Android backup and other files with ease. What's your opinion? Welcome to leave your thoughts below in the comment area for sharing or communication.