SuperSU is an utility for managing superuser rights and controlling access to the file system. The main features of SuperSU Basic and Pro versions. Download Free.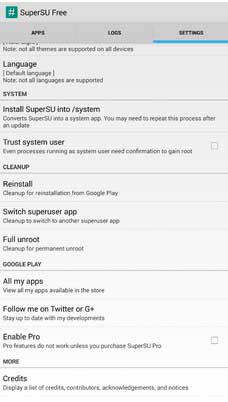 It is a system utility for advanced management of superuser rights on Android. It allows you to configure access individually for each app installed on your phone.
What is root access: https://howtorecover.me/what-is-rooting-android-phone-risks
If you Phone is not Rooted Then Check How to Root Android Without Pc
The distinctive features of SuperSu Free utility App
Basic version
You are prompted to grant root permissions each time an app requires extended access to the file system. The request is accompanied by a notification: thus, no app is able to gain root access without the user's consent.
All apps are given temporary root access. After some time has passed root rights are restricted and the app returns to its standard operating mode. This improves the security of a device, moreover this can also be considered as a kind of protective measure in case a user has forgotten to disable root access of a particular app.
It can be run both in recovery mode and safe mode when Android won't load properly.
It's also possible to completely remove root access together with SuperSU app. Which is useful when you want to remove the traces of tampering with the file system and OS modifications before selling your device or transferring it to a service center.
The features of Pro version
The SuperSU Pro version offers the following additional features:
Capability to update your Android over-the-air;
App access logging to the file system;
Reassigning the user of an app;
Locking the launch via a PIN.
Note. It requires root rights on Android in order to be able to fully operate, otherwise the utility won't start.
From where to download SuperSU for free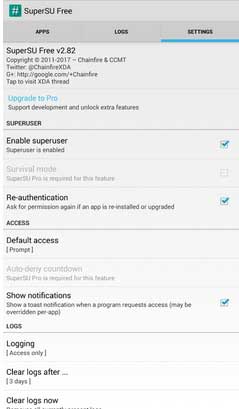 You can download onto your phone officially from Google Play or other source