Hello Everyone I hope you are enjoying Before Shared Whatsapp Tricks & Tips, but today we are aware new whatsapp feature named delete for everyone & Delete for me.
We Already Discussed about this in Whatsapp Upcoming Features article , Now this Feature is Successfully Working in Latest Whatsapp Version. In Before Versions We Can't delete Message in Recipients chat once it Send which Shows one tick After hit Send or Enter Button.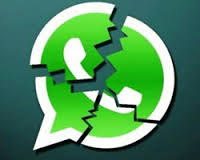 But Now Delete For Everyone or Delete for Me Feature will Help you to Remove Message After Hit Send or Enter button if Receiver is Online. This Features will Work on Both Personal & group Chats. This time they introduced in All Android , Iphone , Windows , Whatsapp Web Platforms.
The feature is Introduced Because Many times We Send Wrong Messages in Wrong Chats or groups Due to Rush. In Previous version if we Deletes the Sent Messages then It Doesn't Effect on recipients Chats but now its Possible to Delete that 2 Tick or Blue tick sent Messages  Where your recipients Will See the Message Was Deleted. The Feature is Working Like Charm in Media Also.
Requirements to Delete Whatsapp Sent Messages
One Tick / Two Tick / Blue Tick Message
Latest Whatsapp Version installed on both Receiver & Sender
Android Version above 2.3.3
How to Delete 2 Tick Sent Messages in Official Whatsapp ?
This Feature Will works on all Android OS but Only you have to Update your app to latest 2.17.393 or Newer Versions.
Download Whatsapp App latest Version or Update it From Here
Now Login or register via Mobile Number Otp
Set your Name & Profile pic
Now Select any chat & Send one Message to any chat or group
Now Select that message by Pressing 2 Seconds on it
Click on Delete Icon
Now you will see Three Options [ Delete for Me , cancel & Delete for every one ]
Select Option no. 3, Done ! No you will see You deleted this message & Receiver will see The message was Deleted.
You have to Complete this Before 7 Minutes , other wise you can do only Delete for Me.
Whatsapp Delete for everyone vs Delete for me
Delete for everyone
In that feature you can delete your Sent Messages in 7 Minutes, Its not Matters Message is one tick , Two tick or Blue tick . The option available in Both Chats & group Chats. It will Also Removed Message From data Base , Media From Storage
Delete for Me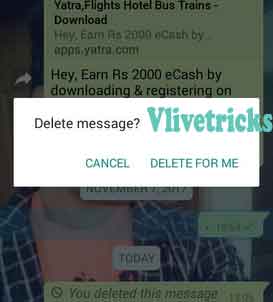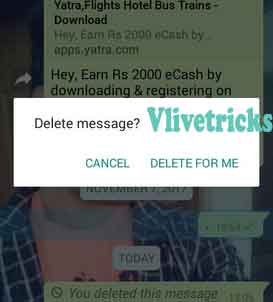 In that Feature, You can Delete Your Sent Messages in your Chat Data only. After this your Message will Show to the Receiver Chat because it will not Effect on Recipients Chats. This Feature will always available & After using this Your Message Will not be Save in your database Also.
Cancel
If You will select cancel then Your Message will not Be Deleted.
Terms & Conditions
Feature will work only if both sender & Receiver are Using latest versions
Work on any Tick
You can't restore Deleted Messages again
Frequently Asked Questions
Is it Possible to delete after showing 2 ticks or Blue Tick Before 7 Minutes ?
Yes , after Showing 2 ticks or Blue tick Means the message was Successfully Delivered to Recipients Mobile But its Possible via Delete for Every one Feature in 7 Minutes
If i Am Using latest but Recipients Not Using latest Version ?
If you are using latest Whatsapp Version then You will see this Option But if your Recipients not using then The Message will not Deleted in your Recipients Chats.
Can i Delete More than 1 Message at Same time ?
Yes, after Select 1 Message then you will get Option to Select More.
What will Show in Recipients Chats After Click on New Delete for Everyone Option ?
"This message was deleted"
What will Show in Your Chat After Click on New Delete for Everyone Option ?
"You deleted this message"
Is this will Work on whatsapp Web ?
Yes , It is Working on whatsapp web after Updating app to Latest. I personally Checked it.
Will it work on Media (Photos , Videos , Documents etc)
Yes, It will work on all type of Messages.