Free online chatgpt plus access -Trick to access chatgpt plus using free openai api endpoint. No openai api key & account need for free chatgpt plus access.
There is many AI models comes on Internet with billions of parameters. But no one can compete with chatgpt. It solves problems in seconds. More than 50+ languages supports , create codes of more than 86+ languages and thousands of benefits of chatgpt.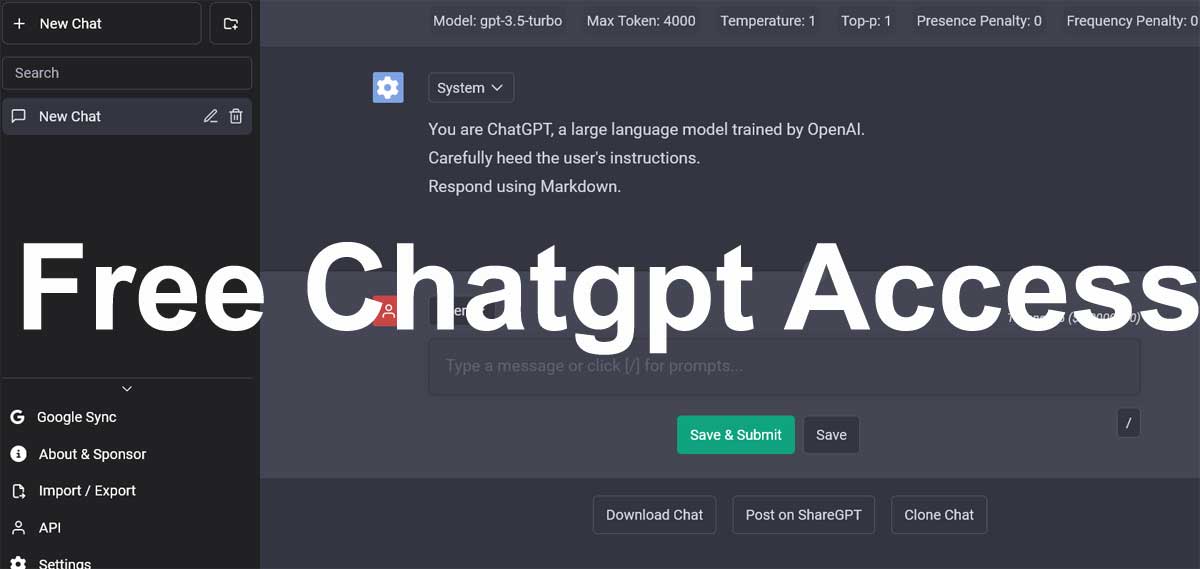 Chatgpt playground is free for everyone but api is not free. Create openai account which require phone number otp verification and $5 free openai api trial credits for 2 months will credit. But chatgpt plus is paid which have more features like fast answers, more tokens etc.
The subscription costs around $20 every month which faster answer speed and available everytime while free available only when low traffic. Another priority access for latest features.
There is other ways to access chatgpt plus absolutely free without openai account or api key. The trick also good for where chatgpt is restricted or still not launched.
Free online chatgpt plus access
Free online chatgpt plus access using free openai api key endpoint. Access with same chatgpt interface & extra features. No account , credit card or any subscription require.
Let's first come to the features :-
Free online chatgpt features
This is the free online chatgpt features which still not available on official chatgpt powered by openai.
No payment method , subscription , credit card require. Absolutely free.
No mobile number verification require.
Download chat , clone chat or share it.
Save and synchronize to google drive.
Import/export to json file
Latest gpt 4 version
Max token 4000 in one prompt (5000-6000) words
Chat configuration like set Temperature , Presence Penalty , Frequency Penalty.
Light mode and dark mode.
Faster response.
Save chat
English translator
Use custom api endpoint and key
How to access chatgpt 4 online free ?
Accessing chatgpt 4 online and free is very easy. Works on mobile , desktop from browser only. You can also use own openai api key or free api key endpoint.
1. Visit this free chatgpt plus online access url from here.
2. First time you need to setup openai api key. You can use own openai account key here or tick on Use custom api key endpoint.

3. Enter working free openai api key endpoint here as "https://free.churchless.tech/v1/chat/completions". Paste this url and leave empty api key field.
4. Confirm it. Setup is complete. Now enjoy chatgpt plus absolutely free.
5. Wants to change model as gpt 4 then click on settings >> Default chat config >> select gpt 4 from drop down list.

6. Confirm it and enjoy chatgpt access free.
Get free openai api key without openai account
Using openai reverse api use the chatgpt free in your own applications and programs. On internet some of the github projects provides absolutely free chatgpt api access.
Here i am sharing one of the project, Only api key endpoint and api key changes require in your project. It works on same code.
1. First join the discord server [ Click Here ]
2. Select "Bot" from left menu and type "/key". Select "/key" from list and hit enter.
3. You will get your own free openai reverse api key. It will work with this endpoint "https://api.pawan.krd/v1/completions". Replace api key and endpoint in your project.
4. Enjoy free openai api key. This api key has some limit like 250 credits per day and 1000 tokens uses 1 credits.
Conclusion
So guys i shared both working free online chatgpt plus access method and free openai api key. On both method no openai account require. Completely free and fast way to access chatgpt free.
You have any other method then please tell me in comments section. And don't forget to share with friends and family members.