If you are a computer user, it's inevitable to manage hard drive partition free in windows for different reasons. You may find that C drive becomes full and want to enlarge it, or there is only C drive partition and plan to split it to get more partitions. To complete different operations about disk and partition, you can turn to Disk Management or third-party free partition manager, AOMEI Partition Assistant is the best Pro and Free tool to manage Hard Drive partitions.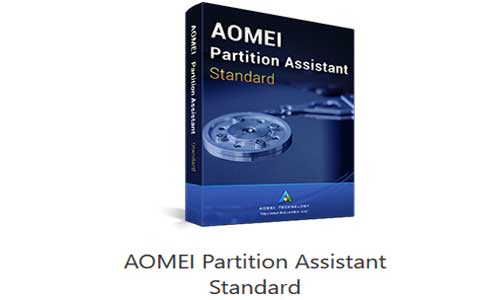 How to manage hard drive partition Free in Windows?
Usually, to manage hard drive partition means to create, delete, resize partition, etc. Get into the following tutorials about how to perform those operations.
Check How to Remove Unwanted Data on Hard Disk & Fix External Hard Drive Not Working Solutions
1. Manage hard drive partitions via Disk Management
First of all, press Windows + X and choose Disk Management to open Disk Management (This way of accessing Disk Management is for Windows 10; if you are using 8.1/8/7, press Windows + R, input diskmgmt.msc and press Enter to access Disk Management). Then, you can create, delete, or resize partition.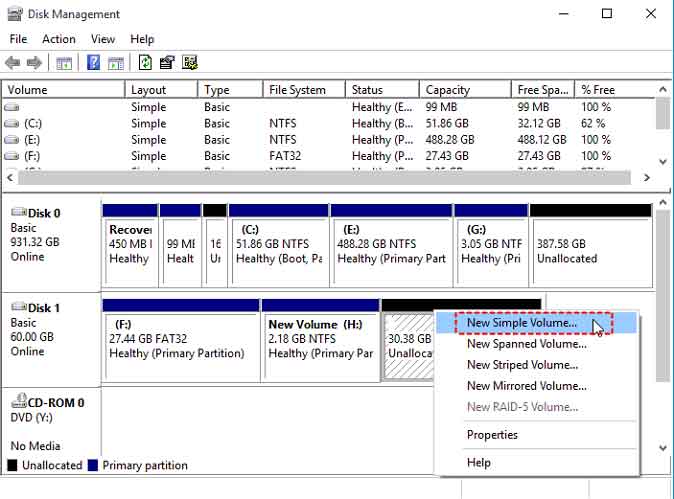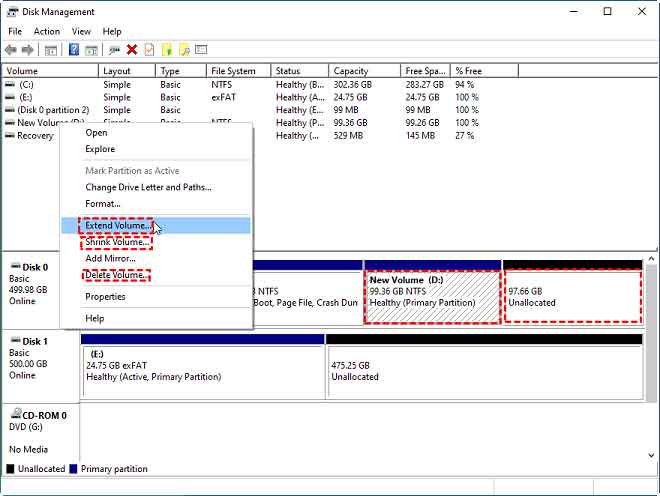 As the screenshots show, Disk Management is able to manage hard drive easily by create partition, delete partition, resize partition by New Simple Volume, Delete Volume, Shrink Volume or Extend Volume option.
However, if there is the unallocated space is not contiguously behind the partition you need to extend, like the following screenshot, you'll find that the option of Extend Volume greyed out. If you need to extend the partition, you have to make the unallocated space behind the partition.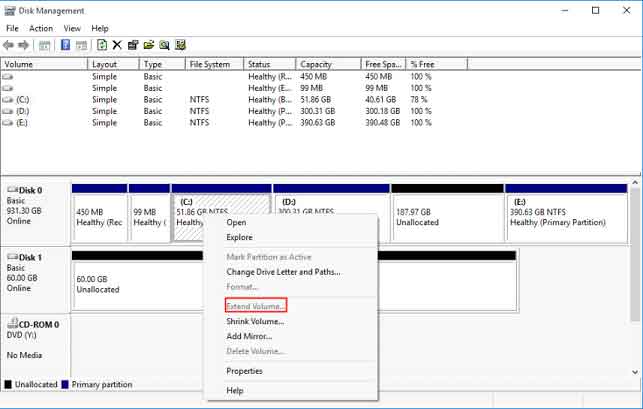 And what you can do is to delete the partition between the partition and the unallocated space. However, deleting a partition will erase all data saved on this partition.
And If a partition is formatted with FAT32, you'll find that both Extend Volume and Shrink Volume greyed out.
That is to say, you can adjust the size of FAT32 partition directly. What is can do is to delete the FAT32 partition and create a new FAT32 partition with the size that you want.
2. Manage hard drive partition via third-party partition manger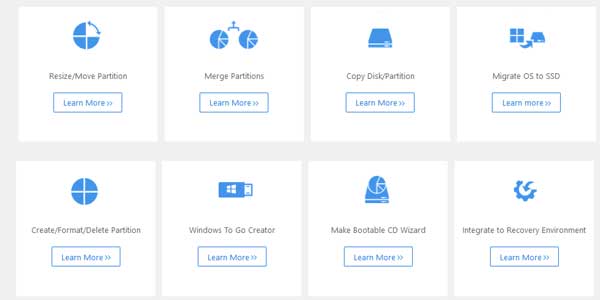 If you need to extend partition with non-contiguous unallocated space without deleting data loss or want to resize FAT32 partition, AOMEI Partition Assistant, a professional & powerful partition software can be your great choice.
Preparation: Download AOMEI Partition Assistant from its official website, install and run it on your computer.
Extend partition with non-adjacent unallocated space.
Step 1. Right-click the partition that is going to be enlarged (here is system C drive) and choose Merge Partitions.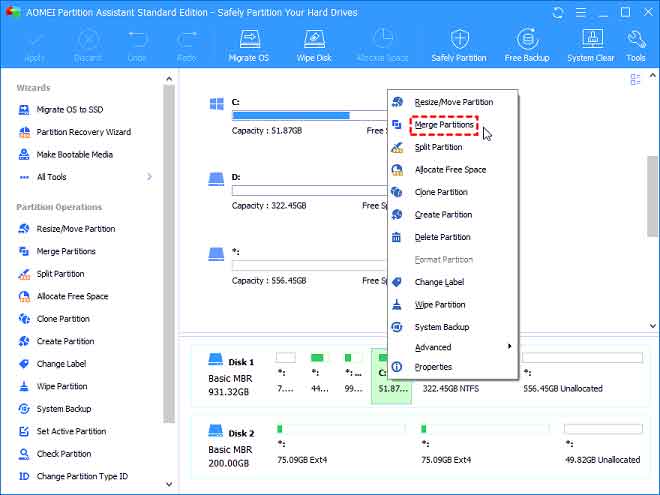 Step 2. Tick the box before Unallocated and click OK to continue.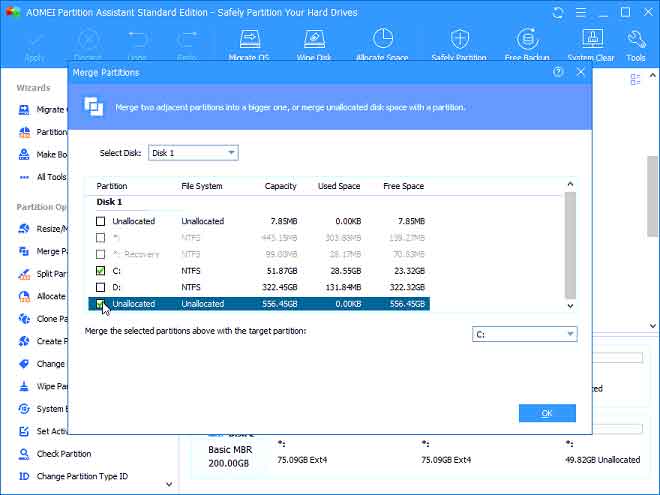 Step 3. Here you can preview that the unallocated space will be merged into the C drive. Click Apply and Proceed to execute the pending operations.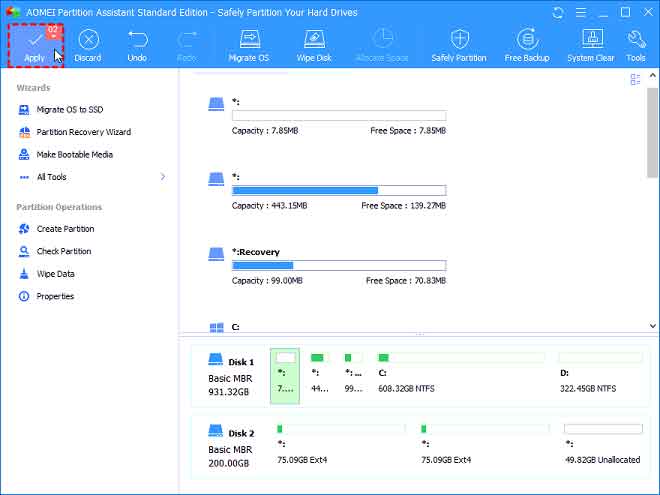 Note: If there is no unallocated space on the disk, you can shrink a partition with enough space.
Resize FAT32 partition
Step 1. Right click the FAT32 partition that you need to resize, choose Resize/Move Partition.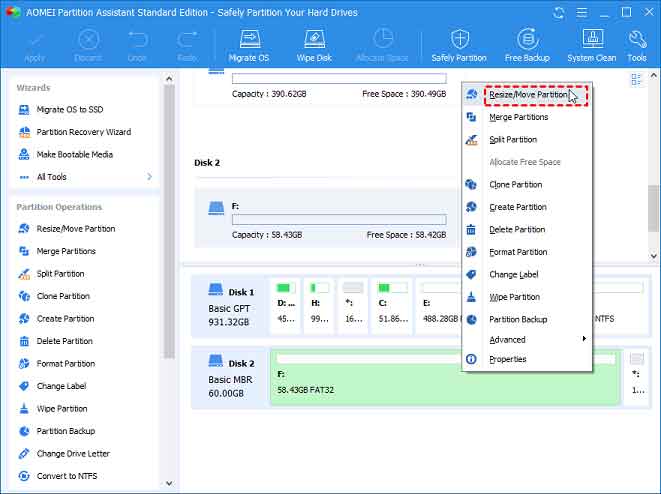 Step 2. In the pop-up window, put the mouse on the right border of the FAT32 partition, leftdrag the border if you need to shrink the FAT32 partition, rightdrag the border if you want to extend the FAT32 partition. Then, click OK.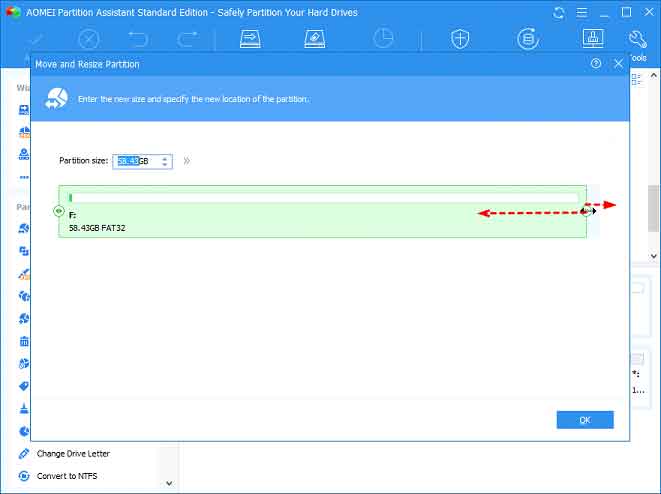 Step 3. You'll be back to the main interface, click Apply and Proceed to commit the operation.

Wrap things up
You can manage hard drive partition Free in Windows rather easily with Disk Management or AOMEI Partition Assistant. And apart from the advantages mentioned above, AOMEI Partition Assistant can create bootable media to manage partition when your PC can't boot normally, copy partition to another drive to transfer all data saved on the partition, and so on.