"I don't want to reinstall my Windows 11, it's problematic and time-consuming. After searching online, it's said cloning is the easiest way to copy hard drive from one to another. Is there any free disk clone software recommended for disk clone?  Thanks for your kindly reply!"
Yes, cloning is the easiest way if you want to migrate OS or entire disk and you need a reliable disk clone software. Besides cloning, some users try backup and restore method. It requires a second drive to store your system temporarily.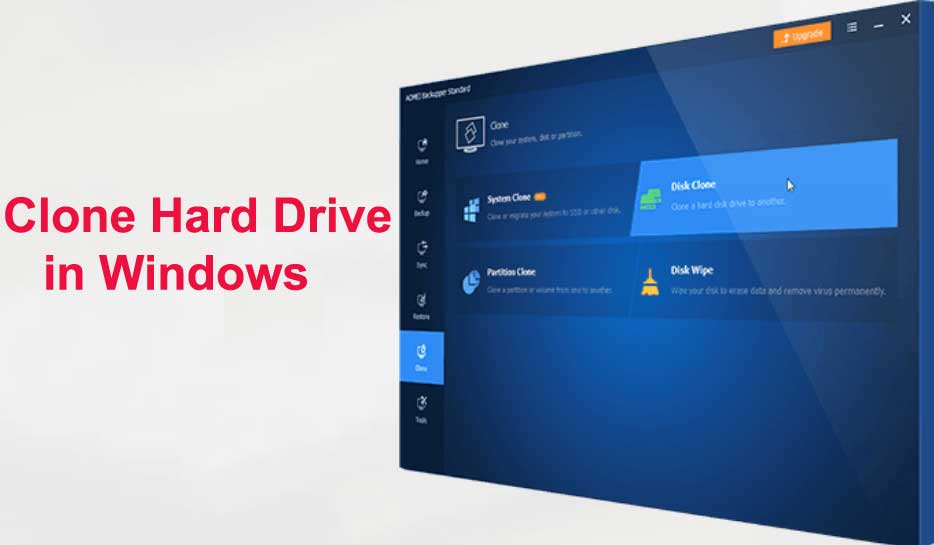 You need to restore backup image before you can access or boot from it. It takes twice as long as cloning and the repeated process may make you feel tedious. Thus
Check How to manage hard drive partition and Clean up Hard Disk (Unwanted Data) using software and manually from cmd.
---
Why clone Windows 11 hard drive?
Cloning a hard drive will duplicate an exact copy of items on it, including the operating system, boot partitions, installed programs, personal data, etc., without compressing to an image file. After cloning, you can directly use it as system disk and boot from it.
Also, it can be regarded as a backup copy to avoid any computer failure, such as, system files corrupted, disk failure, virus, blue screen of death, etc. And no matter what happens, you can easily get your computer back by replacing hard drive currently in your computer.
Besides, you can clone hard drive to larger drive to get more capacity and then installed more programs, store more documents, pictures, videos, audios, etc. And you can clone HDD to SSD in Windows 11 and enjoy shorter boot times and program loading time.
Best free drive cloning software for Windows 11
Which free disk clone software for Windows 11 should I use? This can be a question for many users who want to cloning hard drive. Don't worry about it! This article will show you what a reliable disk cloning software looks like and introduce you to one.
The most important factor is to know if the cloned hard drive can be successfully boot from your computer. Besides, below are helpful features you may want:
Intelligent Clone: It clones the used sectors only on the Windows 11 hard drive and copy to another one. Thus, you can easily to clone large hard drive to smaller drive or SSD.
Sector by Sector Clone: This is just the opposite of intelligent clone, which will clone all the sectors on a hard drive. It completely resolves the cloned hard drive won't boot issues due to missing system reserved partition.
SSD Alignment: It's to ensure SSD 4K alignment so as to make it run faster. If the SSD disk is misaligned, the read and write speed will greatly slow down.
All disk brands compatible: It supports cloning Dell hard drive to SSD, clone Samsung SSD to another one, clone WD disk, clone Seagate HDD to SSD, and more.
And I strongly recommend you cloning hard drive in Windows 11 with AOMEI Backupper Standard. It's free and easy to operate, even for beginners.
How to do hard drive clone in Windows 11 with the easiest way
Here I'll show you the process of cloning Windows 11 hard drive with AOMEI Backupper Standard. Before you start, please download this free disk clone software and install it on your computer. Then, connect another hard drive you want to use for cloning.
In the main page of this software, select Clone -> Disk Clone option.
Notes : This version only supports cloning system disk from MBR to MBR. If your disks are both GPT or between MBR and GPT, you could consider upgrading to AOMEI Backupper Professional.
Select the hard drive in Windows 11 as the source dis. Then, click Next.
Choose the connected disk as destination. Then, click Next.
Then, you will be told that all the data on the destination disk will be deleted or overwritten after cloning. If you don't want to lose any important files, it's suggested to create a files backup on external hard drive.
Tick SSD Alignment if the destination disk is an SSD drive. And then, click Start Clone to clone hard drive in Windows 11.
Any of problem if hard drive is not showing then you can check what problem is coming.
---
Video steps :
---
Wrapping things up
The easiest way to clone hard drive is using a reliable disk clone software that can ensure secure boot after cloning. And you can make this task flexible with its helpful features, such as, clone only used sectors with Intelligent Clone, clone HDD to SSD with SSD Alignment, and more.