Youtube Monetization Tricks and Tips 2023 for earn money. Monetize Youtube Videos Without 1K Subscribers & 4000 Watch Hours. This Trick Will Help you to Monetize Youtube Channels Even Its New and Don't Eligible for Monetization Because Milestone Not Completed.
Some Days Ago We Shared Promote Youtube Channel & Videos Free Which is Also Helpful After Approved For Youtube Monetization. Because for More Earnings You Need More Views on Videos. If You're Beginner then Must Read How to Earn Money by Uploading Videos on Youtube.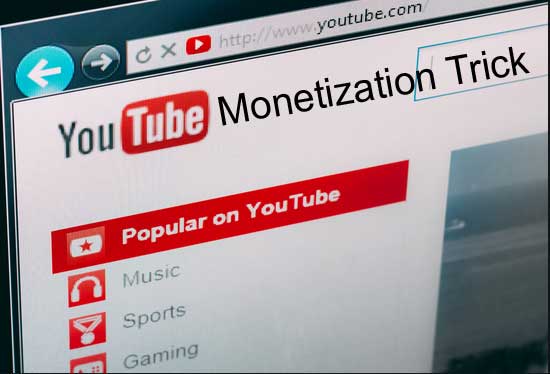 Reaching to 1000 Subscribers and 4000 Watch Hours is Very big Task for New users. But Using Youtube Monetize Trick Eligible only after Upload 2 Videos but this is Not Free. You have to Invest Between $70 to $100.
Actually In this Trick, We Will Purchase Genuine Subscribers and Watch Hours From Internet or SMM Panel. After This You will be 100% Approved for Monetize Youtube Videos on New Channels and Earning Will be Started From First day So Your Invested Amount will be Recovered Very Soon.
If we Compare Youtube Monetization with Tips and Without Tips Then we will Lost Earnings on Views Before Monetization but If you follow Tricks then Earn Invested Money After Some Days of Starting Channel.
How to Get Youtube Monetization Approval Without Watch Hours ?
Getting youtube monetization approval without 1000 subscribers and 4000 watch hours is easy. Increase the subscribers and views on youtube video through smm panel.
Before Some years Ago Youtube Doesn't Restricts Channels for Monetization Even Its Created 1 Second Ago. There is no Restriction and Monetization can Live Instantly on Videos. Some Peoples Used this Trick to Approve Adsense Accounts.
But Due to Huge Rush on Youtube Without Enough Subscribers and Watch Hours. You can't Enable the Monetization Option Under Account so Today In this Youtube Monetize Tricks We Will Guide How you can Purchase Both Subscribers and Watch Hours at Cheapest Rate with High Quality.
Guys Follow this Youtube Monetization Enable Trick Steps and Earn Money From Videos in Some Days.
1. First of All , You Need to Buy More than 1100 Subscribers to Youtube Channel. If you Already Have then Skip this Step
2. Search on Google SMM Panel or From Private Source, You can Buy it. Only Some of Sites Offers Youtube Subscribers So if you Unable to Find then You can Try smmpanelprovider.co. I Didn't Try, Use at your Own Risk
3. To Looks Like Genuine, Select 50-60 Subscribers Per Day Speed Only. It Will Cost your Around $15 to $20. You can Find Cheap Also.
4. The Next Step is To Upload 2 Videos More than 2 Hours Length and Make Sure It Doesn't Contain Any Copyright Content so Turn off the Sound in Video as Well as Turn Off Comments.
5. Once you Upload Videos, Next Steps is To Increase Watch hours on Youtube Which is Very Simple Using This Trick. Youtube Views Can be available on any Smm Panel.
6. Buy RAV (Real Active Views) with Speed of 2K Per Day. On Each Video You have to Buy 10K Views Which is Almost 2000 Watch hours. It Costs Around $50 to $60.
7. Finally Youtube Monetization Enable button will be Unlocked and Apply for Monetization Using this Trick. Google executive will Manually Review Your Youtube Channel and Soon You will Notify via Email Your Youtube Channel is Approved for Monetization.
Conclusion
I hope you this Youtube Monetization Trick and Tip Will Save Time and Wait both. Start Earnings As Soon As you Create Channel. This Tricks Working with 100% Success Rate. If We Compare Invested Amount with Lost Earnings on 4000 Watch Hours. Then Invested Amount Will be 20% to 30% Only Also you can Recover the Amount Easily.
If you Like the Trick then Please Share it with your friends and Help them to Earn Money Fast on Youtube. Need any type of help then Leave in Below Comment Box.