According to New Adsense Policy, All World Wide Users Requires to Enter United States Tax Details under Adsense Account to Receive Payments From Google. This Tax Will Apply Only Earned From United States of America Traffic. Tax Rate my Vary From Countries.
I hope you Checked Our Previous Article How to Earn Money From Youtube by Uploading Videos on it and How to Make CPC Ads Popup Which will Boost Your Revenue.

If you are Confusing How to Submit Adsense United States Tax Info Form to Receive Google Adsense Payments for Youtubers & Bloggers After 31st May 2021, Here we Shared a method to Enter Details of United States Tax Form with Screenshots and Save maximum Amount of Tax.
As per Article 7, 15% tax rate is applicable only if you have a permanent establishment in United States of America for sale of goods, etc. In all other cases, 0% tax rate is applicable. Like in Cases Motion picture and TV Article and paragraph: Article 12 and paragraph 2A II Withholding rate: 15% (reduced rate) is allowed it. So This will not Apply on your All Earnings from U.S.A..

Notification Showing Under Adsense Account 'Important: Check if additional tax information is required from you. All YouTube creators and partners are required to submit tax information to ensure any applicable taxes on your payments are accurate.'
So guys Read this Article Fully If you Are Non-resident of U.S. and Earns from Adsense because if you don't fill-up Adsense United Tax Details then 24% Amount will be Deducted from Your All Countries Earnings. This Form is Mandatory to Fill for All Worldwide Users even you live in U.S..
---
United States Income Tax Treaties 0% Rate Countries :
On this Countries, This Policy will not Effect on Payments under 0% US Income Tax Treaties Which Saves Double Taxation.
United Kingdom
Canada
Ireland
Iceland
Denmark
Finland
France
Germany
Greece
Hungary
Japan
Norway
Slovenia
Switzerland
Other Countries Have 5%, 10% & 15% Tax Treaty Rate and the Countries which Don't have Tax Treaty with U.S.A. then they have to pay upto 30%.
---
How to Submit United States Tax Info Form for Non-Us Citizens ?
Before Start to Fill Tax Form Know About Tax Treaty : Double Taxation Avoidance Agreement (DTAA) with each other. For example, India and US have a DTAA (tax treaty) to ensure that income is either taxed in India or in US (and not in both)
This Steps is Only Adsense Account Outside U.S. territory.
1. First of Login to Adsense Account From Here.
2. On Adsense Homepage Click on "Manage Tax info" Option From notifications or Click on "Payments" >> "Manage Settings". Under Payments Profile and Below Name and Address.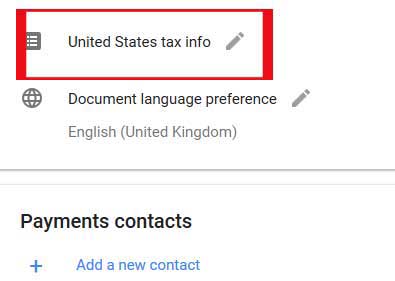 3. You will See New Option Name "United States Tax info" Click on Edit Icon >> Manage Tax Info >> Add Tax Info

4. New Pop up Will Open and Ask for Google Account Login. Now Form Will Open and Step by Step you have to Fill-up.
5. What Type of Account. Select "Individual" if Single Owner or "Non-Individual" for Organizations. Click on Next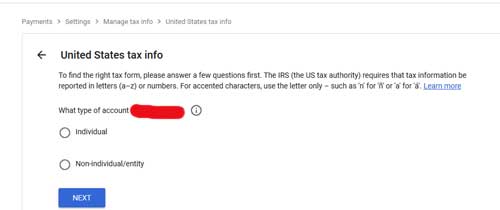 6. Next Option is, Are You Citizen of the United States ? Select From Yes and No. Hit On Next for Proceed Further.
7. Select W-8BEN Form for non-U.S. resident and which Don't file income tax returns in the U.S. And select W-8ECI Form if filing income tax returns in the U.S. connected with a trade or business in the U.S.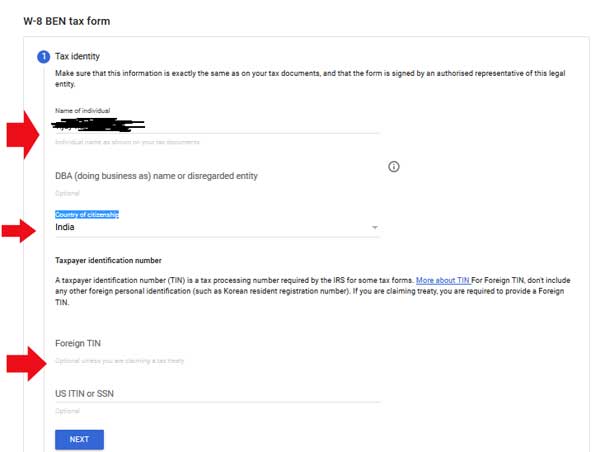 8. Form Will Open, In My Case : I Am Filling W-8BEN Adsense Form. Enter your Full Name, Business Name (Optional), Country of citizenship, Foreign (taxpayer identification number Provided by your Country), Enter your Permanent Address and Postal Address. Tick on the Box if Same.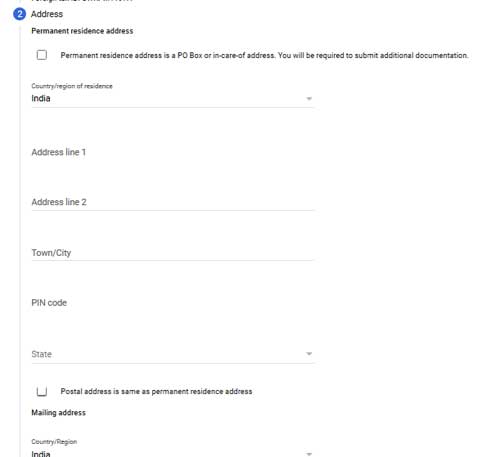 9. Next Part of United States Tax Info Form is Tax Treaty, Under this Select "Yes" >> Tick on "Resident of country claiming treaty with the US". Select your Country from List >> Select Services (Adsense). Select Special Rates and Conditions as Like Below Screenshots.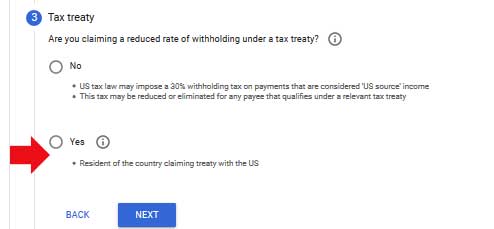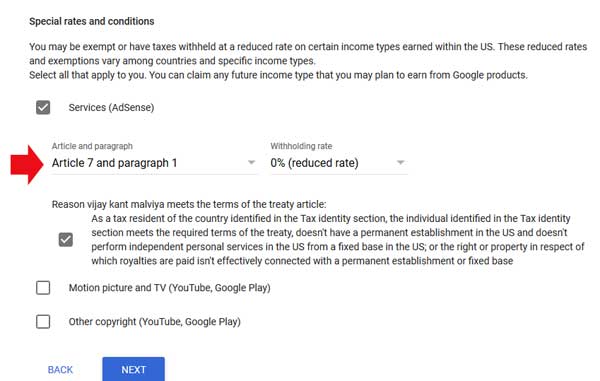 According Article 7 and Paragraph 1, You're Applicable for 0% Withholding Reduced Rate if

doesn't have a permanent establishment in the US and doesn't perform independent personal services in the US from a fixed base in the US
10. Select Other Services and Select Reduced Rate. Click on Next will Generate Document Preview. Read one by One and Confirm all the Information. Tick and Confirm it. Again Next it.
11. Enter your Full Legal Name as Signature and Proceed Further. In Next Option Select "Yes" and in Next Option Select Second Option as Like Screenshot.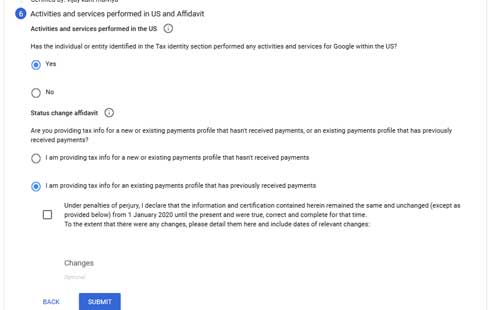 12. Finally Submit the Form, Instantly it will be Approved and you can Download Declaration Forms as well as you will be receive email from google.
---
Conclusion
I hope you Understood How to Fill-up United States Tax Info in Adsense and Save More & More Tax on Revenue from U.S. Traffic. If your Country is Tax Treaty with U.S. then You can claim tax Treaties Reduced Rate as Like as I Claimed 0% Withholding Rate on Adsense Services.
Basically It will Not Effect on Individuals Payments but Effect if Your Service Come from "Motion Picture and TV" & "Other Copyright" Services which is youtube, Google Play, Music, Movies, TV etc.
Still Any Query Didn't Covered in Above Explanation then You have Rights to Ask in Below Comments Section.