Are you Website or Blog owner then Make Popup of any advertisers url, It will Automatically opens Link when Somebody Click anywhere on the Webpage. It Helps to Boost your Earnings, Sales, Clicks etc. The Code is Very Simple and You will have Full Control.
Publishers Mostly Earn Revenue Just For Clicks on Ads so Make Pop-up Ads of Cost per click Url so Every View Will be convert into Earnings. The Code is Working Fine on any Mobile, Desktop Browser because its a javascript Code.
Place anywhere in the Website and Set your Affiliate link or Advertiser Url then See the magic, You will get huge Hits on your CPC Url. Normally we Sets the "Click Now", "Download Now" Types button for Earnings But Only Some People Clicks on it so our Earnings increase very Less.
Some Days Ago we Share a Guide to Earn Money From Facebook Where we Need Page Likes and Followers When Every users will get Popup of your Facebook Page then Definitely your Page Likes will be Boost. You can Use This Popup ads Javascript Code for any Idea like Use it with Pay per download websites
How this Pop under Ads Code works ?
Once your Setup the Popup Code in your Website, When Users will Come to your Website and Click on Any Link or Anywhere. One New window will Open of CPC Url and hide your Current Window so Your Users have to Read it and your Earnings will be Boost.
The Code is not a anytype of Hacking or Black Hat code, Its a simple Javascript Onclick Function so you can use with any Advertisers and its Completely Safe but Don't Use with Google adsense.
Another Good thing of This Pop Ad Code is it will not Bad Experience of your Readers Because once they will Close the Popup Window they can Continue to Enjoy your Website
Benefits of Using Own Popup Ads
Lots of Publishers Sites Gives Own Popup under Code for Better ECPM and You earns on Every Click But problem is Showing Adult which makes our Users Experience Bad and you can Lost your Traffic from Google Search Also so Set your Own Url in Popup ads makes balance of Both Experience and earnings.
You can Set it on specific area, Links, Pages or Whole Website. Also it Just Four line Code only
How to Make own Popup ads of any url ?
Here is the Simple Javascript of Pop-up Under ads, Place Where you Wants on website. It works on Head, Body. If you are using wordpress CMS then You can Add in Widgets, Theme or simply in Text Tab of Edit Post/Page.
Paste this Code without Quotes and Don't Forget to Replace "https://vlivetricks.com" with your ad-url.

<

script

 

type

=

"text/javascript"

>


document

.body.onclick= 

function

(){


window

.open(

'https://vlivetricks.com'

, 

'poppage'

);
}</

script

>
Now whenever Your Blog Readers will Touch the Code Place Area they Will Get Popup of your Entered Url in New Window which overlay your Current Tab. When users Close the Windows they will See your Window and they Can Continue their Browsing
Screenshots :
Here is the Screenshots of Popup Window which I Set in Content, I have Removed the Code so It will not Show now on this page
1.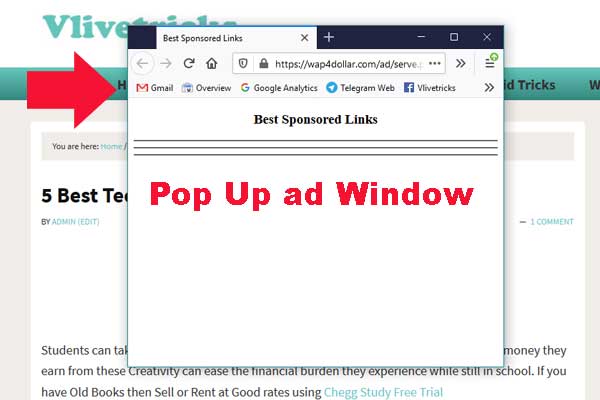 2.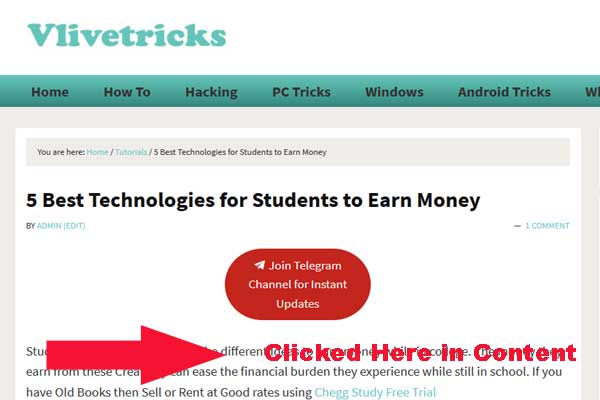 Conclusion
I hope this Popup ads Javascript Code is Helpful for you, Its Definitely Increase Your Cpc Earnings with Making bad Experience to your Users.
Now its time to Give your Opinions, Improvements or if you have any better code then you can share in below Comments Section.