Top Most Using Free Movie Maker Software 2022 Which Can Create Any Type of Videos. This Movie Makers Can Edit Videos, Create Short Movies. You don't need a significant budget to produce amazing results with the volume and quality of video editing tools and online movie makers available.
An engaging video may assist fuel your brand's success in a world driven by visual material. However, outstanding video footage can only be created with the aid of editing tools. The majority of well-known Movie Makers software is expensive. However, there are several equally good free solutions. That's fantastic news for the entrepreneur with big dreams. You may already have a high-quality camera built into your Smartphone, but you'll need third-party mobile software to edit your raw film and prepare it for publishing. For more involved post-production jobs, you may even need to use a computer.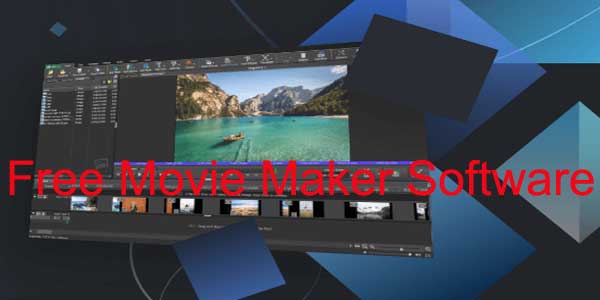 Let's take a look of Best Movie Making Software and Most Using in Year 2022. If your Goal is to Make Short Movies, Videos Then You must Check The List.
List of Best Free Movie Maker Software 2022
1. Lightworks-
Lightworks is another excellent free Movie Making program that runs on Windows, Mac OS X, and Linux. One of the more powerful video editors on the list is Lightworks. It's jam-packed with useful features. Most people should be able to get by with the free version.
The free edition of Lightworks provides high-precision video trimming, multi-cam capabilities, 720p export for YouTube, and a large number of supported video formats. Lightworks features a wealth of video tutorials that can help you get up and running quickly.
2. InVideo-
InVideo is a video-making platform that allows users to create professional-looking videos with paid templates, graphics, and music. It is a video-making platform that allows users to create professional-looking videos with paid templates, graphics, and music.
InVideo reduces the time it takes to make a professional-quality video by over 90%, allowing the creator to focus on the content and impact. Over 800,000 individuals from over 150 countries have created videos in over 75 languages using the platform.
Marketers, publishers, people, and agencies will all benefit from this online video editing tool. This desktop-compatible program is best in class for several reasons, including support for intelligent frames, automated voice overs, and much more.
This video editing software is praised by users for its excellent customer service, user interface, value for money, and, of course, functionality.
3. VideoPad-
VideoPad is a fantastic and Best free Movie Maker choice for anyone looking to make professional-looking videos without spending any money. You may experiment with different video compositions and styles with VideoPad's simple and easy-to-use tools, such as 3D video editing and a sound effects library.
You may add special effects, overlays, texts, and transitions to your films, as well as color correction and sound effects. Then quickly and effortlessly export all of your finished videos to YouTube, Facebook, Google Drive, and other mobile devices.
4. Shotcut-
Shotcut is one of the greatest free Movie Maker programs for Windows, but it also works on Mac and Linux computers. Because it is a completely open-source program, you have access to all of the features without having to pay for an upgrade.
While the capabilities and instruction videos in this video editing program are excellent, some users may find the interface to be a little odd. That's because Shotcut was built from the ground up for Linux, and it shows. But it's still a good video editor underneath the hood.
4K HD resolution support and timeline editing are two of Shotcut's most notable capabilities. There aren't many free video editors that support 4K resolution. Furthermore, Shotcut does not require you to import your video into the editor, which might save time when working with huge video files.
Shotcut is also a good choice for people looking for a 1080p video editor. The software can play 1080p videos at 60 frames per second (frames per second). It also has three lossless export formats, allowing you to transfer videos without sacrificing quality (the only downside is the huge file sizes).
5. HitFilm Express-
If you're new to video editing, HitFilm Express may seem intimidating at first—designed it's to create Hollywood-style films—but it's well worth the effort because it's one of the greatest all-in-one free video editors accessible. (When you download the software, HitFilm will ask you to share a social network status update, but that's a tiny price to pay).
HitFilm has animation capabilities that allow you to create and edit audio and video transitions without having to construct composite shots, which saves you a lot of time when editing.
6. DaVinci Resolve-
The most advanced video editor on the list is DaVinci Resolve. It includes a lot of professional video features, yet the interfaces are still simple. You can master audio and color correction in addition to video slicing and trimming. You may also add 2D and 3D titles to your movie using the program.
If all you want to do is cut and publish your films, DaVinci Resolve's comprehensive feature set may be too much for you. The free edition of this program, on the other hand, is hard to beat if your video project is a little more complicated.
7. VSDC Free Video Editor-
Both a free and a premium version of VSDC's desktop video editing software are available. VSDC's full video editing suite is still included in the free edition, which includes a mask tool and chroma key ability for green-screen video effects.
The package of tools increases to include video stabilization, robust post-production effects, slideshow/presentation capabilities, 3D diagram templates, and direct social media sharing if you pay for the complete edition.
8. Blender-
Blender video editing is an open-source 3D creation package that is free to use. It has tools for modeling and rendering 3D animations. Hundreds of developers from all over the world collaborated on the program. Blender's software has a large number of tools thanks to its large user base.
Blender is primarily a 3D animation program, but it also includes a capable video editor that should suffice for most users' needs. Blender is a versatile video editor for both novice and professional users and an ideal alternative for more advanced projects that may incorporate 3D animation. It can also handle more sophisticated edits, such as video masking.
Final Call
Online video material is not only being watched more but is also being anticipated more. Fortunately, you have access to video editing software that may assist you in delighting your audience and increasing conversion rates across all of your social media platforms.