Here we Share a Trick to View Forcefully or Get Full Desktop Site Mode on Android Ios & Windows Mobile Phone Google Chrome or other Browser settings Configuration. If you are getting Problem in Mobile Site or Not able to Login or any kind of Error then Using this Guide by which You Can Successfully open any website Like Desktop in Your Mobile Phone.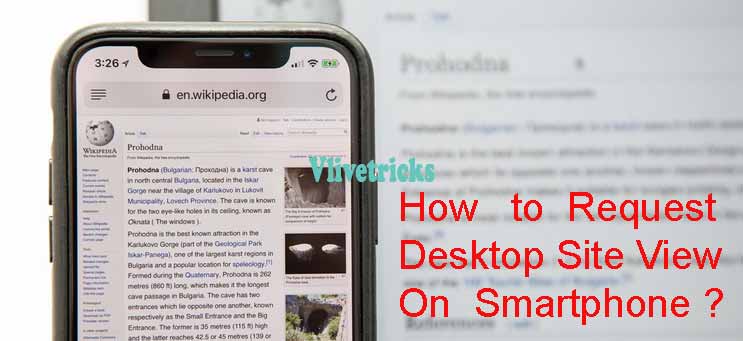 Many times We can't Enjoy full Option & functionality of website in our Mobile Phone Because they Restrict some Option in Mobile Which you can use Only by opening site in Desktop / Computer. If you are getting any type of problem in Mobile Site then You Can use this Option without Any pc in Your Mobile Phone by This Trick.
Once you Follow this All Steps then You can Open Full Desktop Site View on Android Chrome. No need of any special Knowledge & Separate app Installation for this ,Just you have to turn on one Setting Option in your Chrome Browser , Once you Turn on then Your all the Website will be Automatically Open in Desktop mode & when you need mobile View then Just turn of This Option.
How to Forcefully Open full Desktop site View on Chrome (Android/IOS/Windows)
To enjoy Desktop Internet Experience in Your Mobile Phone Just Follow Below Simple Steps –
First of All , Download Chrome Browser in Your Mobile phone. [ IOS ]
Install & open it (In mostly it is Pre-installed)
Now Open Any Site if it is Opening in Mobile Version then Click on 3 Dot Option From Upper Side / Click on Menu Button.
Now Tick on request Desktop Site.
It will automatically Reload or if not then Manual Reload it.
Done ! You will see Website Desktop View , Now Double Click on Screen to Zoom & Swap to View Full.
How to Request Desktop Version on Firefox Android
Open your website
From Top Right Corner , Click on Three Dot
You will get Request Desktop Site Option
Tick to On
Reload the Page and enjoy
How to Force to Open Website Desktop View Using Iphone Safari
If you have Iphone then You uses Safari Browser Because its Default Browser of Iphone. It Also Offers to Open Websites in Desktop View but You have to Configure your Settings
Open Safari Browser , Visit your Website
Right Side of Url , Click on Reload Icon
Now you will get Pop Up to Request Desktop Site
Click on it to get Full Desktop Site View on Iphone Safari
If this Method Not works in Iphone then Try Below method
How to Force Open Desktop Version of Site in Iphone Using Javascript
Open Settings >> Safari >> Click on advanced
Turn Javascript on
Now Open the Desktop Url of the Site
How to Again Force to Open Site in Mobile View (Google Chrome)
Again You have to Reverse all the Steps.
Open site & Untick Request Desktop site Option.
Reload it.
Done ! Your Desktop Site view Mode is turned off. Now Mobile Version site will be View in Mobile View.
If you are not Using Chrome Browser then This Option Also Available in Mostly Browser , only the Configure Settings is Different. To Change Just Search Desktop Mode View Under Browser Settings Option.
Benefits of This Trick is No any separate app Installation , Any time you Can Turn on or Off. In this way you can force to open site in Desktop mode & enjoy pc Site Features on your smartPhone.
How to Force Open Facebook in Desktop Site View
If you are searching way to open only facebook then Read this Two More tricks to Open Facebook in Desktop Site View on Mobile Phone.
Open this link >> http://www.facebook.com/home.php >> Login & get Desktop Site View
Open http://m.facebook.com >> Scroll Down & click on desktop Site Option
Tags :- Configure View full desktop site View on Android , force desktop site android chrome ,how to get desktop site on android chrome , chrome request desktop site default , force desktop site iphone , desktop view on android