Some Android Apps need Extra Permissions Until their Features not Works Properly so You Have to Turn on Accessibility on your Android but Problems Arrives when it Automatically Off so in this Article Guys we will guide how you can Permanently Turn it on to get Proper Access of the apps.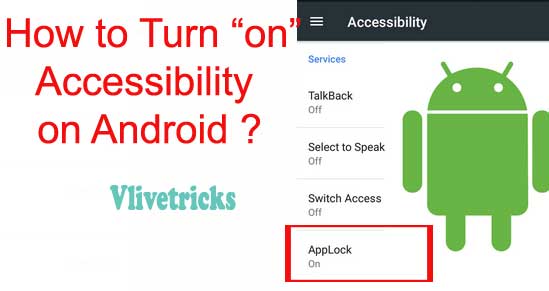 Every App Doesn't Required Accessibility , Only the Apps Shows in this Option need this. We Can Easily Turn it on from the Settings Option but After Sometime it Automatically Turn off on Some of the Android Versions. In this Tutorial We Will take Nokia 2 Handset example Where this Problem Arrives which Uses Android Nougat 7.1.1.
What is Accessibility on Android ?
It is Option Which Takes Advantages of Google Api to Better Serve for their users and Make your Phones More workable. On Default you will see Lots of Pre-install Apps like Talkback , Captions, Magnifcation etc in this Option which you can Turn on or Off.
Some of the Third Party apps Also Requires to Turn on Accessibility to Better serve on Android but after sometime it Automatically Turn off and apps Reached on Normal due to battery saver Optimisation so today we Will out from this Dilemma.
How to Turn on Accessibility Permanently on Android 7.1.1 ?
First of All , Open the Settings Option in your Android
Now Scroll Down, You will get Accessibility option >> Click on it
Here you will get List of Apps which Require this Service
Simply Click and Turn it on
Now you have to Turn on Permanently, Visit battery Option under Settings
Click on Right Corner, You will get Battery Optimisation
Unlist by click on Not optimised Apps then Select All Apps
Select Your Accessibility App >> Don't optimise
That's it, Now your App Got Permanently Accessibility Permissions
Why this Happens ?
When Automatically or we turn on Battery Saver then this Forcefully Stop lots of Process of the Apps which not come in their list so Basically Accessibility also Off so When you add your App in the battery Optimisation List your Accessibility will happen always Turned on.
This Turn on Accessibility Permanently method is Based on Nokia 2 (Android 7.1.1), You can Follow this Method on all Android except some Xiaomi and oppo phones only you will get Options on Different Place under Settings Menu.
Conclusion
Finally we Successfully Turned on Accessibility for Always on Android by remove apps in battery optimisation list. If you Success in your mission then please share in below comment section and share to your friends who are looking for the same.