You Know About New Android Gadgets Apps By Which Easily Know Mobile Phone is Taking network Range From Which of Nearest Tower. Many Times we Need this Details, Like We are not getting Proper Internet speed on Current Connected Network then You can Test Speed of that Tower.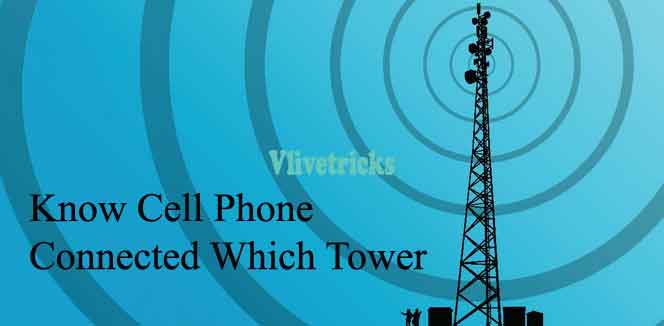 Easily Switch Mobile Phone to Other Network to get Better Speed. Sometimes Due to Heavy Load of Users or Technical problems of network we Gets problem of Speed & Connectivity issue so this Network Info Apps Will help you to get All type of Details.
Here we Shared Steps to Know Mobile phone currently Connected from Which tower & wants to check details Like Signal Strength, Internet Speed , Distance , Tower name , Direction in Google Map, Coverage, Compare Speed Test Between Networks then here Free Tools will help to Know Cell Phone Connected complete network Info.
With Cell Phone Connected Network Tower Details , it will also give device & wifi Details. To get Strong Signal Strength you will get Compass & Directions in Google Map. Track Distance Between Cell phone & tower. Even Check history of Connected Towers & Wifi's. With this Great Features they also Provide too Many Features which we discuss below in this Tutorials.
How to know name of current mobile connected tower
Know the name of current mobile connected tower and manually connect with high speed tower. Get tower signal strength, speed, distance, location and many more things.
How to know mobile Phone Connected by Which Tower ?
Here we Share Best 5 apps to know Cell Phone is connected from which Network Tower. This apps is completely Free of Cost available on Play store. Don't need to Invest Single Penny to get Tower Name. No any registration & Credit Card Required to Use , Just Install and Enjoy – Different Different Apps Provides Details in Different way.
1. Open Signal App
This app is complete Solution to Check Details because in this Check Current Connected Network Details. Run Speed test , Compare Coverage & Speed between two Towers, Check Connection Quality of Nearest Cell phone Towers, Check Distance Between You & Your Nearest Tower in google maps. Check more Features –
Cell tower direction – follow our signal compass to stronger signal.
Signal strength in dB.
Find Nearby Free Wifi.
This is the Highlighted Features to know More & Wants to Use then Download Open Signal Tool App Now.
2. Network Signal Info (Complete Info to Know Mobile Phone Network Tower Name)
Another Good app to track Network details for Free. In mobile Signal track Network operators, Sim operator, phone type, network type, network strength in dbm and ASU, data state, data activity, country code of the mobile phone, device ID, IP address, roaming state.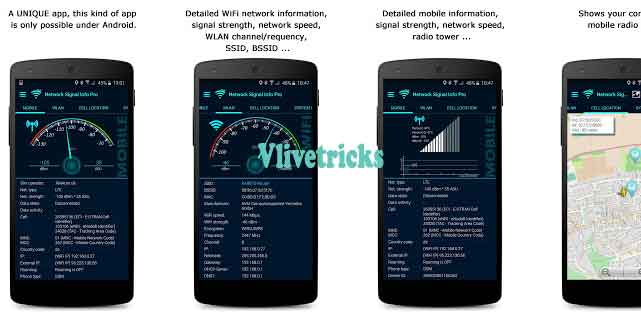 In Wifi Signal Get details of Wi-Fi-Name (SSID), BSSID, MAC address, maximum Wi-Fi speed, IP address, external IP address, net capability, net channel, subnet mask, Gateway IP address, DHCP server address, DNS1 and DNS2 address.
In Free app , Some Features will be Restricted. To get Access of Every Features you have to Buy Pro Version but to know Tower & wifi Details , You don't need to Purchase Paid Version. Download Network Info Free Version.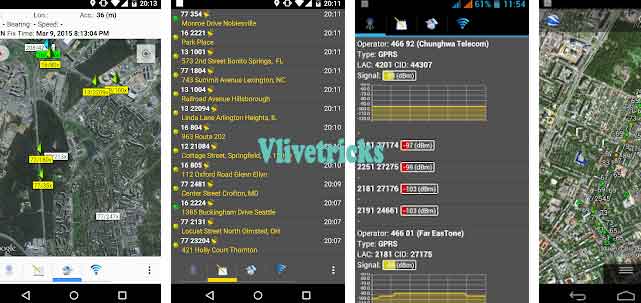 This is Lite App to Track Cell phone Location Data on Google map. It can Monitor All Gsm/3g/lte/4g Network. You can Also Get details of Your & Your Current Neighbors Cell info like signal strength. You can Export this all details in your sd Card.
4. Coverage app
See where your device has better signal strength and where it encounters dead zones. The App has Almost All Features of above Apps. Easily Know Cell Phone Connected From Which Tower and Test Internet Speed & Find dead zones on commute.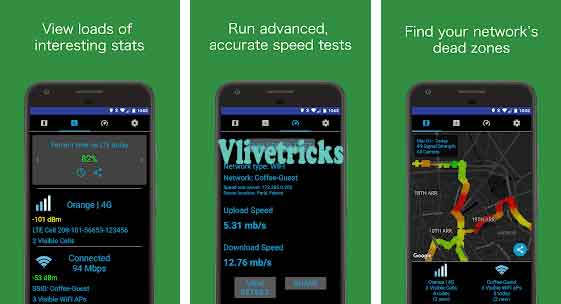 One Unique Feature of coverage app is You can Swap sim cards & Compare Coverage of Both Different Carriers so it Will help you to Select Which is Best Network at Your Place.
Check Cell Phone Connected LTE Network Signal Strength.
How many new cell towers your Phone Connected today.
Download Coverage app.
5. Network Cell Info Lite
The app is Specially made for Low Ram Users which Didn't Get Access of above apps. If the above Tools is Not working in Mobile Because of Low budget phone then Don't be upset because Network Cell info Lite app Gives accurate Network Signal Strength Details. It is the Complete Tool to Monitor your Cell phone Network.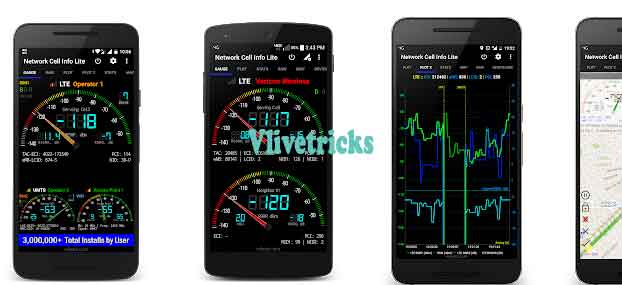 Still Didn't Get What searching For Wifi Info then Check our Wifi Analyzer Pro Apk Article in which you will get all the details of wifi.
This all Tools apps will help you to Know Mobile Phone Connected Tower Name , Signal , Internet Speed , Distance in Google Maps, Direction to Get Better Signal & Much more. This all are freely available on google Market, Just visit Above Mentioned link & enjoy all this Features.