No matter how many online business ideas you have in your mind, you must learn how to start an online business the right way. While you can't start an online business for free, you can do it with minimal start-up capital. You must have a small starting capital. In this quick guide on how to start an online business, we're going to share a few steps to help you start a successful online venture. If you are a student, then also read up on the best technology for students to earn money.
Starting an online business is no easy thing. You need to choose profitable products, learn how to promote those products to potential customers, while at the same time growing your online presence. It's quite a big hassle. It's costly in terms of the time you spend and your effort; but when done right, you can enjoy a ton of benefits.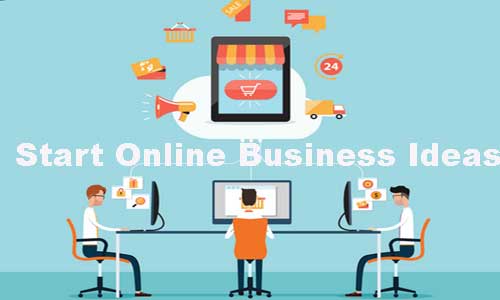 That said, here are the easy steps on how to start an online business successfully.
Tips to Start Business Online for Start up
Decide the Kind of Online Business to Start
You may skip this step if you already have an online business idea. But if you are still considering options then keep reading. From dropshipping to affiliate marketing and online consultation services, there are many types of online business you can start today. You can even create and sell digital or physical products online.
The most important thing to do is to decide the type of online business you want to start. There are different types of businesses with different monetization strategies. Once you decide how you want to drive revenue, you can pick the specific products or services that you want to sell.
Pick a Profitable Niche
Once you have identified the type of online business to start, you need to find your niche. This is perhaps the most difficult aspect to starting an online business. Ideally, it's not easy to tell if your online business idea is lucrative or will fail. Sometimes you have to take a risk here.
To find your niche the right way, think about what you are passionate about or you're good at. Another way to find your niche is to think about the areas you have expertise in or check whether there is a missing gap you can fill in the market.
Weigh Your Online Business Idea
Now that you have identified your niche, the next step is to evaluate the profitability of your business idea. It's painful and frustrating to start an online business only to find out later that you can't make profits with your idea.
To assess the profitability of your business idea, search on Google to see how many people are searching for terms related to your business. The more the searches, the higher the chances of making money with your business idea.
You may also want to check on social media to see the content being shared the most. Head over to Amazon and find out profitable products or search on other popular marketplaces to evaluate the profitability of your business idea.
Create a Website for Your Online Business
Once you have decided on the type of online business to start, picked a profitable niche, and evaluated your business idea, it's time to launch your online business. Many people choose to use the WordPress CMS, with the WooCommerce plugin activated.
This will enable you to create your online store. For web hosting, we recommend picking the HostGator starter plan. This plan is suitable for any business owner on a fixed budget or beginners who won't require a larger amount of webspace. Of course, you can upgrade to the standard or business plan later if your business grows.
Once your website is up and running, learn a bit of digital marketing, optimize it, and establish your social media presence then start promoting your business.
Over to You
As you can see, learning how to start an online business isn't as hard as people think. Besides, you don't have to know everything about online entrepreneurship. You'll learn more skills along the way. The hardest part is just getting started, so follow these steps and you'll be well on your way!