Verify and digitally sign PDF online free
Working with PDF files requires some knowledge from users as they are characterized by a wide range of possibilities. Documents in this format can be edited using a special application on your device or in cloud storage.
However you feel most comfortable. Many companies use this type of files to create important documents. Since they can be hidden for reading only and a person can not make any changes in pdf.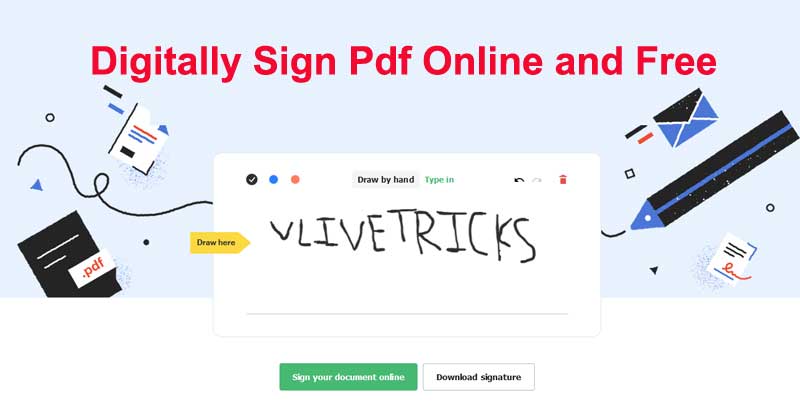 For this they have to first create signature and verify it. After digital sign documents like pdf , docs and many more documents.
Digitally sign PDF online free
First create free digital sign online and then digitally sign pdf and other documents. Only few minutes require for sign a pdf online free. There is no installation or particular device requires.
Methods of opening PDF files
A file in PDF form is most often used to create different documents that you will need to fill out and have them signed. Also they are widely used by various companies that produce books, magazines and other text materials.
You have an opportunity to open such a file on any device you have. Among the most common opening methods we can note the following ones:
1. Adobe Acrobat Reader DC program is considered standard and it helps to work with PDF files without any difficulties. Since this file format is a product of the company Adobe. PDF file reading software opens up some useful possibilities for work. Users can make changes to the table of contents and bookmarks. It is possible to create notes and highlights and fill out forms. But for full-fledged and optimal editing is necessary to purchase a paid package of tools.
2. Opening with Google Chrome, Opera, Yandex.Browser and others. In this case, quite easy to open a PDF file, thanks to the fact that your device has built-in programs for reading. But this way helps you obtain only basic viewing options.
3. Sumatra PDF program is absolutely free and is characterized by a user-friendly interface and high processing speed. It helps users to work with such documents. But it has some limitations: the user will not have an opportunity to edit forms or add any notes.
4. Foxit Reader is considered to be a similar program to Adobe Acrobat. But it has a slightly different interface but all the features are the same.
The latest versions of Microsoft Word can also be used to view files in PDF format. It should be noted that when you open it, such a file is converted to Office format. And the disadvantage is that large files can take some time to open. Once opened possible to make any changes in it.
How to sign documents in a PDF file online and free
Many companies submit documents for signing in an electronic format. And in this case the recipient needs to take care to provide a signature correctly. And since the PDF file format is not always editable and will not be as easy as it may seem at first glance.
First of all, the user should decide on a special program that allows him to make edits. After that necessary to upload your online signature. There is a handy service createmysignature.com, which will allow you to draw the signature on the screen and save it on the device. Using the ready-made signature will help you to make quick corrections in the PDF documents.
Working with PDF documents via PandaDoc
Those users who want to simplify work with documents PandaDoc & pdfdrive will be just an excellent option. Such software opens up a lot of useful and especially interesting opportunities to work with documents in various formats.
Able to provide an electronic signature in a matter of minutes. Since the service offers a variety of toolkits. Possible to open access to cloud storage for several people at the same time. Save a lot of time for the preparation of all the necessary papers.
Create a comfortable environment for yourself and your employees. Cooperate with PandaDoc and appreciate the ample opportunities that significantly simplify complex tasks.