If you are Online Earner Then Obviously you Need Method to Make Unlimited Fb (Facebook) Accounts in which no any Mobile & Email Verification Required, Also the Account Will not Block to Long time. I hope you know Facebook Algorithm is Developed to Secure in Which we Can Create only 3 Accounts from One Mobile Number and Email id After that We Can't Register New Accounts. So if you have only one Mobile number but Need Unlimited fb Accounts without Verify Mobile Code then you are come on Right Place. Here we Shared Proven Methods.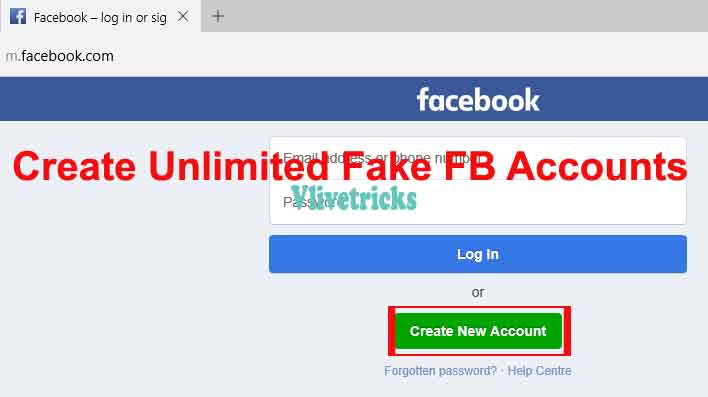 This is very simple Trick in which you can Create one Facebook Account in Just 30 Seconds or Less. You can Use any details which you wants at the time Registration. Your Main Mobile number and Email id will be Safe because in the Whole Method , This will not Use for Single work. Actually this Method is Posted at Lots of Sites but Facebook Blocks after 2 – 3 Sign ups So We have also one trick so Keep Patience Till Last. We Personally Tried This Method and its 100% working on Both Mobile and Pc.
Note :- This Methods is only for Educational , Fun & Learning Purposes. We Are not Responsible for any harm. Use at Own Risk.

After some days it will ask to enter mobile number, otherwise the account will be close. So if you wants that account for further use then update the mobile number in account otherwise no ways to recover account.
Why We Need Multiple Facebook Accounts ?
Promotion & Marketing
Facebook Security and Algorithm is very tight so if you will use Single Account for Facebook Marketing then you will be Block or Restricted after Some Shares and Posts. At that time we need More than 1 account to Proceed our work.
2. Bypass Earning Apps Login
This is Also one Reason to Create Unlimited Fb Accounts , Because Lots of android and Ios Apps force to login from Fb so they gets only unique users so if you have Lots of accounts then you can Earn more from the Apps Like refer and earn , Sign up Bonus etc.
3. Prank & fun
Some of the Users Required Prank with their friends and Relatives but they wants to hide their Real Identity, So using this method they can Easily Make Fake Fb Account and Easily prank with their Loved ones.
How to Create Unlimited Fb Accounts From Mobile & pc
First of All , Open web Browser (Chrome , Uc Browser , Dolphin , Opera Mini etc)
Open temp-mail.org and generate new email address >> Copy it
Now enter m.facebook.com in address bar and Open it >> Click on Create A Account (Green Button)
Enter your Full name , Click on next
Enter Any Date of birth above 18+
On Next page, It will Ask Phone Number but Below Next button, Select Sign up with Email Address
Enter Email id which Copied above
Select gender and Set Password for your account
Facebook will send Verification Code on Temp-mail, Copy from that and Enter it
That's It , You successfully Created Fake Facebook account without Mobile and Gmail Verification.
Repeat the Steps to Make it Unlimited
So guys That's the Tricky Steps which Will Help you to get Unlimited Facebook Accounts without buy new Mobile number and Create Gmail Accounts.
How to Prevent from Block ?
If Id will not Original then your account blocks on Next Login or After some Days so Prevent your All Created Unlimited Fake Fb accounts Keep Remember this Points.
After Successfully Created , Upload Profile Picture like Real (Search from Google)
Make Some Friends which you know so if Photo Verification comes then you can Easily Bypass it.
Don't Login from other Browsers or Malicious Ways
If the Account most Important for your work then Please add mobile Number in it
More this articles will help you Best Facebook Tricks , Recover from Facebook Photo Verification
Facebook Valid Email address Error Solutions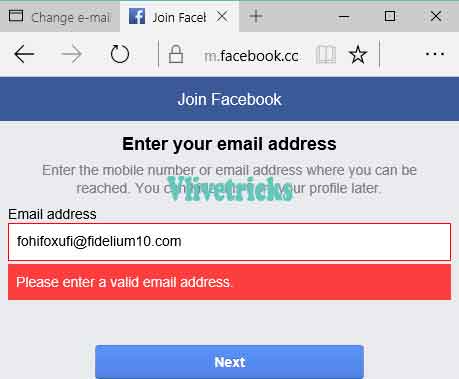 After Create Some fb Accounts you will get Mobile Verification or Wrong email error Like "Please Enter Valid email address" but we Promised to make it unlimited so After this Try to Follow Below Method to Facebook Unlimited account Error
Reinstall your Browser or Check it by Clearing Data (Cache, Cookies, History etc)
Try to Change your ip address (Use Vpn , Connect Internet from Other Device)
Change Login Name and Email Extension / Domain on Temp mail
How to Create unlimited Fb Accounts error in Android
Clear Data of your Web Browser
Now Use Phone id Changer or Donkeygurad App to Change Android ID , Imei Changer , Guid and other things.
Now Change your ip address by Turn on and off your Mobile Data
Follow above Steps then this Steps then above then this to Create Unlimited id
Conclusion
I hope you Successfully Understood our Steps and Easily followed Our Proven Tricks to Create unlimited Fb accounts and Its worked for you. If you need any type of help then Please Explain in Comments and Share with your friends and Family members who Need this.