Daily New Technology is Inventing by Peoples & Scientists So Here We Made a Article to Check Latest updated Top Technology Trends which is Recent Discussing Topics in World. This Helps Us for Future Products and Future Technologies.
If you take a look at some of the recent twitter trends of 2022, you will develop an idea of how ahead of time we are.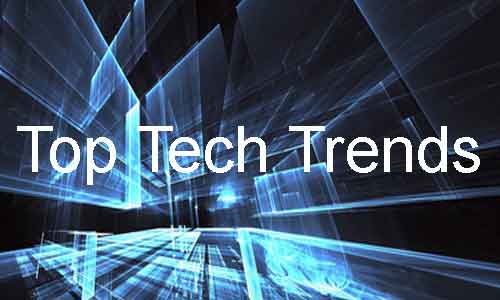 You cannot deny the massive digital change that the world of technology has developed and undergone. It has made all our lives better, convenient, and resourceful. The pandemic, on top of that, has made us all understand the value of technology. From school to corporate, places are running online, which made all of us believe in the internet.
By offering corporate houses a mode of online operations to tackling the pandemic, the important role of technology has once again proven to mankind. One thing should be clear; technology will tend to bring a massive yet gradual change to our environment and society.
Recent Top Tech Trends For 2022
1) Acceleration of Cloud Transforms 
The pandemic has shown us all how all our work can be done online, sitting right at the safety and comfort of our abode. Whether it is streaming content online on OTT platforms or working remotely, the rapid surge in digitalization has accelerated the quick transition to the cloud. This is, in return, helping businesses to unlock productivity gains, increasing efficiency, speed, and much more. Cloud transformation is a Top Tech Trend Now and it will take the world to a whole new level with its efficiency.
2) Introduction of 5G
4G speed is now a Top trend of the past. 5G is about to take the place of 3G or 4G. Nonetheless, say it will enable you to browse the internet, download stuff, or stream videos at a much higher speed than its predecessor. It is about to contain data-driven services, increased bandwidths, and so much more. It will enable the use of AR and VR. You will also be able to play cloud-based games. 5G can also help with HP cameras monitoring traffic, retail, and smart grid control.
3) Better Cyber Security 
Cybersecurity was a matter of discussion and debate right from the rise of the internet. It is not an emerging issue. But, it is surely developing at the speed of light, and the last few years have been a witness of it. Technicians and cybersecurity experts are working day and night to make the internet a safer place for everyone. From using groundbreaking technology to employing masterminds from around the globe, companies are willing to pay millions to secure their data and information.
4) IoT – is Tomorrow 
IoT or the Internet of Things is a one of the Top tech trend of the future and present. It will be quite right to say that it is here. IoT is being used in home appliances, electrical devices, cars, and many more. The connectivity of WiFi with almost every appliance we use has made it easy for IoT to emerge swiftly. From switching on fans with a remote to keeping track of your health with your smart band, you have already started using IoT without knowing how to use it. IoT can be used to speed up essential services that include the health care system.
5) Blockchain 
Blockchain is Trending in Tech & more like a thing of the present. It might be here for a few years now, but people have started to value it quite recently. As most of the work of all companies, big or small, has moved online due to the pandemic, security has become a huge question here. This is where the use of blockchain is emphasized. It is a chain of data to which you will only be able to add, neither change nor deletes. This feature of blockchain is one of the many things that makes it so important.
6) Constantly Evolving Technology 
Keeping an eye on the newest model of laptops is like a part-time hobby or habit of all geeks. But, finding a source of information that is always correct can be a hard job. This is why you need to keep an eye on informational sites like Guru Verdict, where you can get the right information about any sort of laptop you want. There are a plethora of blogs, one of which will surely be of use to you. Though the earning cannot be verified, you can always check on this blog for any further information.
7) Sustainability Driven By Technology 
If you are unable to link how technology is helping all of us become sustainable, just think of the amount of paper that is being saved as most workplaces are operating online. Technology is enabling data flows and helps us to assess the impact of our activities on the environment. The pandemic has helped us to see the world in a different perception than we usually used to.
Final Thoughts 
The top tech trends of this year will help us transform the world into a whole new dimension. We must create space for new technologies to emerge and change our lives.