Online gaming has been growing in popularity recently, especially games based on blockchain. As the Metaverse expands, so too are gaming options and the pots included in them becoming greater.
So, the question then becomes: How to find the best ones? Let's take a look at the popular choices in P3E games this year and see what the Internet has to offer.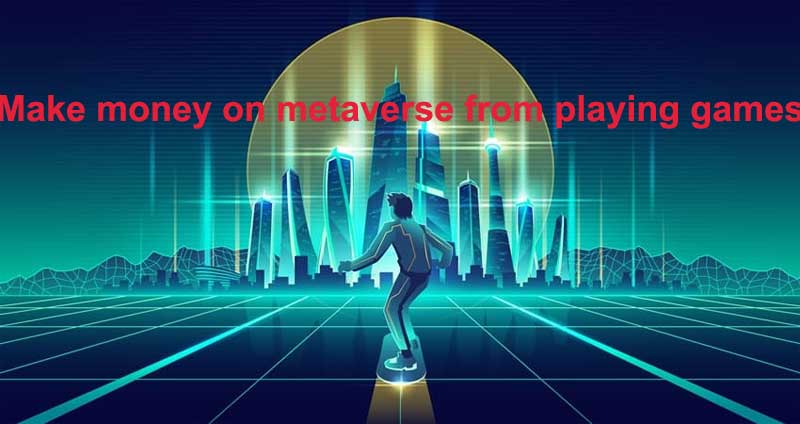 How to make money on metaverse from playing games ?
Here is list of websites for making money on metaverse. Play games and make unlimited money on metaverse. Earn NFTs, ethereum, btc and much more.
1. Illuvium
Perhaps the most talked-about game right now is one that is based on the idea of Pokemon but uses tradable NFTs and is built on blockchain. As per buidlbee, the Ethereum (Level 2)-based game features user-created creatures that have crash-landed on the planet Illuvium and have to battle one another for control.
As you defeat your fellow Illuvials, you in turn win their NFTs and gain money. Potential profits are said to be quite large.
2. Lucky Block
Lucky Block makes the top ranks of the play-to-earn list this year with its "LBLOCK" token. Having been around for just over a year, this game started soaring in popularity right after its release. Built on Ethereum, Lucky Block is a decentralized token used for lotteries that includes over 10,000 unique NFTs. Its lottery prize is valued at $5.5 million.
Lucky Block is, quite simply, based on luck. Through your NFTs, you have the opportunity to earn income, but it is all based on the lottery system. As with other blockchains, it is completely decentralized and anonymous.
3. Game of Silks
An innovator in the gaming world, Silks was the first P2E game in the metaverse. Silks is operated by Tropical Racing, which runs horse farms for racing. The game is based on Ethereum and offers layer-2 solutions. Race horses' real-time performance can be tracked by NFT tokens.
Based upon the results of horses' performance, token holders can potentially win a lot of money. The tokens manifest themselves in digital horses that are based upon real ones, allowing users to win based on the horses' performance.
4. Battle Infinity
Battle Infinity is a platform that encompasses what is known as "The Battle Arena," a forum for interactive P2E battle games that are innovative and advanced in sophistication. It is decentralized and offers such features as auto staking (an option where you can lock and hold tokens to stake for some period of time), autoliquidity (a feature that automatically adds liquidity to the liquidity pool, thereby increasing the value of a given token), and antibot (a feature to prevent the pop-up of bots).
The value of Battle Infinity is said to be rising steadily and should be very high within the next couple of years. Therefore, wins made early could reap large rewards for players.
5. RobotEra
With RobotEra, players are able to create avatars of robots that are able to build whole planets, manipulate geographical features, and even create other robots. Players have the freedom to create their own universes with their own rules. And the robots are the NFTs, so in owning one, you are truly in charge of your game.
RobotEra has a reputation for profitability even among beginners. There are several ways that you can make money through the game: by trading your NFTs, staking your tokens on the success of a planet, or by managing the land that you own through your tokens.
6. Axie Infinity
Axie Infinity is an NFT game from the Vietnamese producer Sky Mavis. It is based on Ethereum. In it, players can create and control "Axies," fantasy creatures that battle one another for profit. It was the first blockchain game to include a mobile app.
What is widely considered the best way of making money in Axie Infinity is breeding Axies. This requires an initial investment, but if the Axies that are bred themselves become good players, it can result in a large profit for players.
Find your game based on skills and interests
As you can see, there are a range of blockchain-based games out there now, and this list represents just a few of the many that have come out recently. Depending on how you want to try your luck – whether it be strictly in a lottery-type situation, or by trying your hand at a skills-based game – there should be an option out there that could potentially bring you big earnings.