File Hosting Sites Like Nitroflare Gives Very Low Speed to The Free Users So Today we Reveal a Method to Generate Premium link Free of Cost Using the Help of Google Drive and Rabbit. You can Generate any File Hosting Link to Premium and Get Full Download Speed. From this Method you can Download Movies , Software and Any File at Full Speed.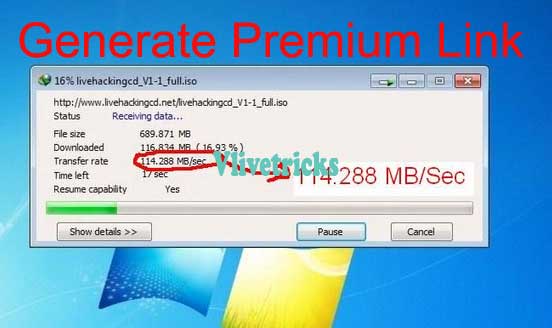 For Example, When you Search Movies on Internet and When you Downloads you gets Very Very Low Speed because they capped Speed for Free Users. To get Full Download Speed you have to Purchase Premium account so Follow our Trick and Download upto 15gb File with high Speed.
How Premium Link Generator works ?
Actually they Download your Link File to their Storage and Gives you New link to Download your File so you gets Full Speed but Premium Link Generator is not a Free so in this Tutorial we Help Rabbit to Download and upload file to the Google Drive and then you can Download or Play From Google Drive.
Using this You can Generate Premium link of any File Hosting Like Uptobox, Nitroflare, Turbobit, Rapidgators, Uploaded etc
How to generate Premium Link Using Google Drive and Rabbit ?
Directly you will get Google Link to Download Your Files so no any chance of Single KB Speed Capped. I hope you Know about Google Servers which is one of the Fastest server in World. People Use Google DNS to Increase Internet Speed.
First of All Visit Rabb.it [ Click Here ]
Make New account on it and Login
Now Click on Your Profile Icon >> Select "MY Room"
Now Select "Private Room" >> Now Enter Your File Download URL in Left Upper Field
It will Open your Download Page >> Now Download it on Rabb.it
Now Visit Google Drive >> Login
Now Upload New File and Select Downloads Tab >> Select your File
Upload it, Now Open Google Drive in Your PC or Mobile >> Press Right Click >> Download the File to Your Pc (You will get Full Download Speed)
In this way you can Generate Premium link upto 15gb File Free, Because Google Offers only 15gb Free Storage if you have more Space then you can Upload More Files
Once you Downloaded Delete the File From Google Drive so your space will be Free and You Can Upload More Files.
In this Way you can Generate Unlimited Premium Links for Free and Get Full Download Speed of any File. You can Also use Other Drive like Microsoft , Dropbox etc
What is Rabb.it & Google Drive ?
Google Drive where you can Store your Files Upto 15gb Free Storage and Rabb.it is Site where you can Create your Personal or Open Room and Share it with your friends. They also Offers Internet Browsing upto 100gb so Your File will be Download and Upload Very Fast on their Servers.
Conclusion
I Hope you Understood Every thing and Successfully Generated Premium Link of your File, If you Need any type of Help then Please Enter it in Below Comments Section or Share it with your friends Who are Looking For Same.