Fast and easy conversion for free on FoxConverter
A good conversion calculator is an incredibly useful thing. It will prove helpful in daily life when you try shopping abroad or cooking something new and need clarification with different metric units. It can also help you out with your work or educational project.
In the end, when you binge-watch Reels or TikToks from a foreign content maker, it allows you to better understand them.

But what is the difference between a good online conversion calculator and a bad one? The answer is simple. A worthy service:
does not demand any payments, subscription, registration, or watching ads;
gives accurate results instantly;
has a user-friendly interface;
offers many available converters of various fields and metrics;
installation of applications or a desktop client will not be necessary.
FoxConverter is an online calculator that matches this list perfectly. It is a website that has over 30 conversion calculators with US, UK, SI, and ancient measurement units, completely free to operate.
A quick user's guide for FoxConverter
The work with any converter you need can be started from the home page of the platform:
click the link named "Unit Converters" in the left part of the page header. It is always visible so no matter how much you scroll, you can always jump to this section;
keep scrolling down to select a clickable image of the converter you need; this part of the page contains the most in-demand converters;
use one of two search panels designed for fast navigation through the platform.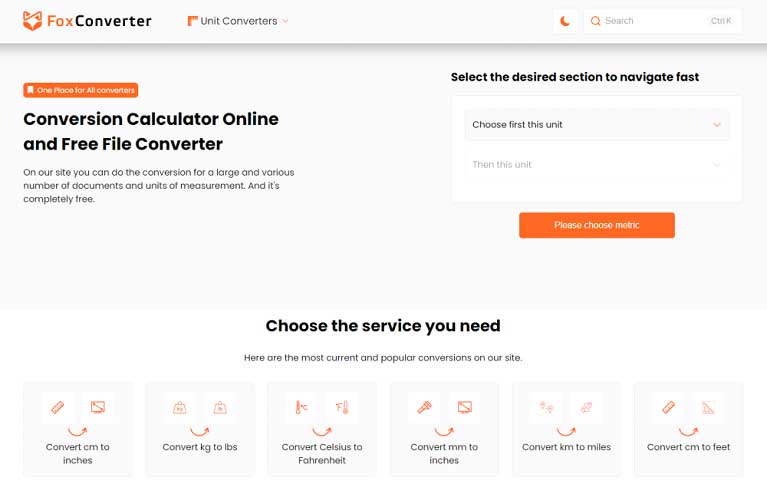 To perform an online conversion, you need two actions:
Adjust the settings (set the units you need to convert and the units you want to get: you can do it manually or choose them in the navigation panel).
Enter the value you need to calculate. The result will appear instantly in the second section of the unit converter calculator.
Usable anywhere, anytime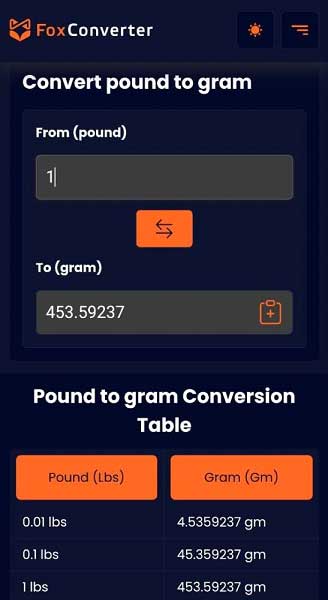 Another advantage of FoxConverter is that it is well-adapted for mobile devices, too. If you have only a smartphone at hand, you can use the online unit converter you need without any inconvenience.
To summarize, FoxConverter is a versatile and handy online service for metrics conversion that allows you to calculate various metrics instantly and for free.