We are come with awesome trick now you can use any apps unlimited in trial mode. You can crack any PC Software & Extend Trial Period of it to Lifetime. Many apps giving trial of apps so by time stopper / Runvsdate software we make it unlimited and use lifetime free of cost you just follow below steps carefully to crack software and use unlimited or make crack version of software and don't pay for apps and use them in trial mode lifetime.
How to crack any pc software
Timestopper & Runvsdate is app which makes to change the date and time by entering into the software. For this reason time stopper will extended or crack the trial period of the software for an unlimited amount of time. BY this you crack or hack any software of pc and use lifetime of paid software.
Reasons for cracking software :-
Money is everything and freely software make our life desire and use it to no worry if works or not any software so cracking or hacking is important many times we don't more use of any app so we use crack or hack.
If we Uses Cracked Software or Moded Apps by Downloading From Google then the Chance to hack of Our pc is More. Many times we Itself sees Many ads automatic Comes in Browser and Every where so this is Because of Cracked software but we Doesn't Recommend that method. Use this Method in Which you will run Trial Version more than from its validity
How to Change Trial Period Date Via RunvsDate
It is very Light App Which Size in Just Kbs , You can Easy to Download & Use it to extend your Trial Period. This will work with All Most all type of Pc apps which comes with Trial Version
Download Runvsdate Software [ Click Here ]
Run it & browse your App
Inject Expiry Date & time (Actual Expiry Date)
Click on Run Button
Done ! Now open your Cracked App , You can access after Expire your trial also
How to Extend Trial of Pc Software by timestopper
Firstly follow below steps you must download the timestopper software from Mirror links download timestopper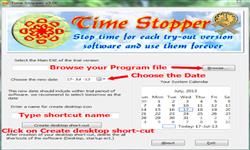 After Download You see timestopper exe file
Right click and run as administrator
After you see browse option just click and and select your installed software exe file(which you want to crack or hack)
Now choose the date (recommended choose tomorrow)
Done your trial is extended
For unlimited again and again
Lifetime Crack Tips :-
Open timestopper after select date type any shortcut name as you wish and create shortcut
Now when you click the shortcut you extend trial mode of software.
After cracking the trial version of any software by using Time Stopper, you must always use the desktop shortcut which created by Time Stopper to open that software otherwise the trial will end instantly and you again follow all steps

We are not responsible of this it is for only educational purposes use it for genuine & don't use for illegal activities . Use premium version of software for better use of any software because in free version you can't enjoy all the features. Timestopper is for only stopping the time of software
Tags:- Crack any PC software , hack any software , Download timestopper , Extend trial Period of software lifetime